O'Reilly Calls for Hagel to 'Resign Immediately' Over Benefits Lapse: 'He Has No Clue What He's Doing'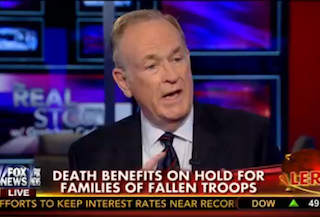 Bill O'Reilly appeared on Gretchen Carlson's The Real Story on Fox Wednesday afternoon and immediately began laying into Secretary of Defense Chuck Hagel for failing to prevent military death benefits from lapsing during the government shutdown. Hagel "should resign immediately" O'Reilly declared.
He did not think, as Carlson suggested, that the U.S. is "playing politics with dead soldiers," but rather cited Hagel's "incompetence and failure of leadership" as the issue at hand. "It's his fault. He oversees it and he could have gone immediately to the president of the United States and say 'sign an executive order' to get the money and they could have gotten it."
O'Reilly added that "of course" President Obama is to blame as well but said Hagel's the one who needs to take the fall. "He's gone, he's through and it's just a matter of when they will boot him out. He can't be the secretary of defense any longer, because the soldiers don't respect him… He has no clue what he's doing."
Going back to the question of "playing politics," Carlson pointed out that "some have speculated it could be that this was the pain that this administration wanted Americans to see happening in their face" in order to blame Republicans for the shutdown.
"Anybody who is speculating on that is irresponsible. Period. That's all," O'Reilly answered. He added that he believes House Speaker John Boehner when he says he thought the "Pay Our Military Act" signed ahead of the shutdown included funding for the death benefits, when in fact it did not.
"I think it's a charade, it's disgusting, disgraceful," O'Reilly said of the whole matter. "Whatever adjective you want to use, it just makes me sad for the state of our country and the lack of leadership across the board."
Watch video below, via Fox News:
[photo via screengrab]
— —
>> Follow Matt Wilstein (@TheMattWilstein) on Twitter
Have a tip we should know? tips@mediaite.com