O'Reilly Panelist Bashes Southern Poverty Law Center: 'They Would Label A Ham And Cheese Sandwich As An Extremist Threat'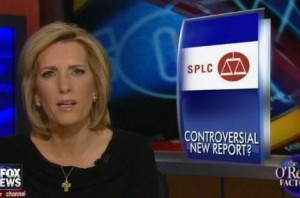 Laura Ingraham tonight looked at a new report from the Southern Poverty Law Center claiming that extremist right-wing patriot groups are on the rise and becoming a lot more militant. However, Ingraham pointed out that many of the groups the SPLC has on the list are just groups made up of passionate conservatives, bringing on Bob Dane, a representative from one of those groups, who wasted no time in dismissing the Southern Poverty Law Center as a politically-motivated organization.
Dane, a member of the Federation of American Immigration Reform, told Maddow that the Southern Poverty Law Center "masquerades as a civil rights group and they're really a far-left political attack machine." He quipped, "They would label a ham and cheese sandwich as an extremist threat if it helped juice their fundraising." Dane likened their report to McCarthyism, with Ingraham saying it appears to be a way of "shutting down debate in the United States."
RELATED: O'Reilly Takes On SPLC Spokesman For Labeling Family Research Council A 'Hate Group'
Bob Hamer, a former FBI agent, said that he has witnessed "real hatred," from NAMBLA to the Aryan Brotherhood, and distinguished between real hate groups and groups made up of individuals who are just rather passionate about their political beliefs. He said that Occupy Wall Street was more guilty of criminality than Tea Party groups have been. Dane added that the SPLC is engaging in a dangerous game by lumping in groups with whom they share disagreement with legitimate hate groups.
Ingraham surmised that the end goal was to get these groups' funding cut off. She and Dane agreed that the SPLC is trying to "shut down debate" and instead label people as "haters and terrible people."
Watch the video below, courtesy of Fox News:
—–
Follow Josh Feldman on Twitter: @feldmaniac
Have a tip we should know? tips@mediaite.com
Josh Feldman - Senior Editor