O'Reilly to Women Making Less Than Men: 'What You Don't Know Won't Hurt You'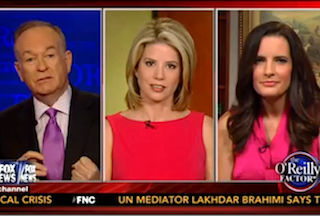 Bill O'Reilly opened his first show after last night's State of the Union by zeroing in on the section in which President Barack Obama called for equal pay for women in the workplace. While he featured two female guests who did not think income inequality for women was as big of a problem as Obama made it out to be, O'Reilly found a point of contention with one of them that led him to make an apparent joke that few women who've ever been intentionally paid less than men should find very funny.
O'Reilly biggest problem with the president's remarks on equal pay appeared to be that there are already laws on the books preventing employers from paying a woman less than a man for the same position. One of those just happens to be the first law President Obama signed when he took office in 2009. The Lily Ledbetter Fair Pay Act, named for the Alabama woman didn't find out she was getting paid less than the men she worked along side until the end of a 19-year career, removed the previous rule that said she had to file suit against her company within 180 days of her first paycheck.
The story behind that law is what made O'Reilly's exhange with liberal commentator Kirsten Powers so disturbingly ironic. If anyone dared to pay Powers less than a man who held the same position, O'Reilly said that "the feds can raid the Fox News channel and put into cuffs" whoever is responsible.
"I think that people could still discriminate, because how are you really going to find out what someone else is making?" Powers responded, citing the very challenge that Ledbetter faced. "What am I going to go around the office and demand that people tell me how much they make?"
"What you don't know won't hurt you," O'Reilly said to Powers, who only had time to let out a small laugh of disbelief before the host changed the subject to raising minimum wage, something he does support despite his other guest Kate Obenshain's accusation that he's "taking on the imperialistic elitist leftist position."
RELATED: Fox's Martha MacCallum: Women Get Paid 'Exactly What They're Worth'
Like some of his more conservative colleagues, O'Reilly opposed Obama's call for equal pay not because he thinks women don't deserve to be paid as much as men, but because he think it's a settled problem. But five years after Obama signed his first piece of legislation, the issue has not gone away. The law may have made it easier for women to sue their employers after the fact, but in order for women to get the pay they deserve corporate culture has to stop discriminating against them in the first place.
For O'Reilly to say, "What you don't know won't hurt you," whether he was actually joking or not, trivializes the problem at the heart of the equal pay issue.
Watch video below, via Fox News:

[photo via screengrab]
— —
>> Follow Matt Wilstein (@TheMattWilstein) on Twitter
Have a tip we should know? tips@mediaite.com