'Our Tears Are Not Enough': President Obama Calls for Change at Memorial For Navy Yard Victims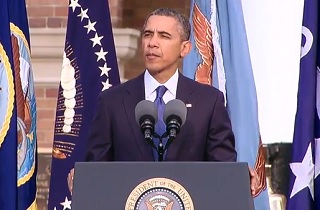 Hours after National Rifle Association figurehead Wayne LaPierre gave his assessment of the mass shooting at the Washington Navy Yard, President Obama delivered remarks at a memorial for the slain, calling on Americans to "care enough" to change. The bulk of the President's 20 minute speech at The Marine Barracks in Washington, DC was devoted to an impassioned plea for action on preventing gun violence.

The President began and ended his speech by invoking the loss of Dr. Martin Luther King, Jr., and the plea for wisdom of soon-to-be-lost Bobby Kennedy, and in between, spoke of the tragedies that the country has endured. "As President, I have now grieved with five American communities ripped apart by mass violence," the President said. "Fort Hood. Tucson. Aurora. Sandy Hook. And now, the Washington Navy Yard. And these mass shootings occur against a backdrop of daily tragedies, as an epidemic of gun violence tears apart communities across America — from the streets of Chicago to neighborhoods not far from here."
President Obama then spoke about each of the victims individually. "'I want them to know how she lived,' Jessica Gaarde said of her mother Kathy. 'She is not a number, or some statistic.' None of these 12 fellow Americans are statistics," the President said.
Today, I want every American to see how these men and women lived," he continued, and delivered a few lines about each of the 12 victims: Arthur Daniels, Kenneth Proctor, Sylvia Frasier, Kathy Gaarde, Frank Kohler, Marty Bodrog, Kisan Pandit, Gerald Read, Michael Arnold, Mike Ridgell, Mary Francis Knight, and John Johnson.
"These are not statistics," the President reiterated. "They are the lives that have been taken from us."
President Obama then declared that the tragedy "ought to be a shock to us all as a nation and as a people. It ought to obsess us. It ought to lead to some sort of transformation."
He spoke of nations, like the United Kingdom and Australia, that have acted in the face of gun violence, and contrasted them with the United States. "After the round-of-clock coverage on cable news, after the heartbreaking interviews with families, after all the speeches and all the punditry and all the commentary, nothing happens," the President said. "Alongside the anguish of these American families, alongside the accumulated outrage so many of us feel, sometimes I fear there's a creeping resignation that these tragedies are just somehow the way it is, that this is somehow the new normal."
"We can't accept this," President Obama continued. "As Americans bound in grief and love, we must insist here today there is nothing normal about innocent men and women being gunned down where they work. There is nothing normal about our children being gunned down in their classrooms. There is nothing normal about children dying in our streets from stray bullets."
The President also drew inspiration from Dr. Janis Orlowski, who treated the wounded at Medstar Washington Hospital Center, and whose frustration broke through at a press conference last week. "(S)he spoke with heartbreaking honesty as somebody who sees, daily and nightly, the awful carnage of so much violence," Obama said. "We are a great country, she said, but 'there's something wrong.' All these shootings, all these victims, she said, 'this is not America.' 'It is a challenge to all of us,' she said, and 'we have to work together to get rid of this.'"
The President promised a review of security at military bases, and spoke of the need to improve mental health care, but added "The main difference that sets our nation apart, what makes us so susceptible to so many mass shootings, is that we don't do enough — we don't take the basic, common-sense actions to keep guns out of the hands of criminals and dangerous people. What's different in America is it's easy to get your hands on gun — and a lot of us know this. But the politics are difficult, as we saw again this spring. And that's sometimes where the resignation comes from — the sense that our politics are frozen and that nothing will change."
"Well, I cannot accept that," he continued. "I do not accept that we cannot find a common-sense way to preserve our traditions, including our basic Second Amendment freedoms and the rights of law-abiding gun owners, while at the same time reducing the gun violence that unleashes so much mayhem on a regular basis. And it may not happen tomorrow and it may not happen next week, it may not happen next month — but it will happen. Because it's the change that we need, and it's a change overwhelmingly supported by the majority of Americans."
While calling for change, the President put the onus on the public to exert pressure on stalemated lawmakers. "Change will come the only way it ever has come, and that's from the American people," he said. "So the question now is not whether, as Americans, we care in moments of tragedy. Clearly, we care. Our hearts are broken — again. And we care so deeply about these families. But the question is, do we care enough?"
"Do we care enough to keep standing up for the country that we know is possible, even if it's hard, and even if it's politically uncomfortable?" the President asked. "Do we care enough to sustain the passion and the pressure to make our communities safer and our country safer? Do we care enough to do everything we can to spare other families the pain that is felt here today?"
"Our tears are not enough," President Obama added. "Our words and our prayers are not enough. "If we really want to honor these 12 men and women, if we really want to be a country where we can go to work,and go to school, and walk our streets free from senseless violence, without so many lives being stolen by a bullet from a gun, then we're going to have to change. We're going to have to change."
Here's the full video of President Obama's remarks, via The White House:
[photo via screengrab]
Have a tip we should know? tips@mediaite.com