Pat Buchanan On DADT Repeal: Imposing "Values Of Fire Island" Will Be "Hellish"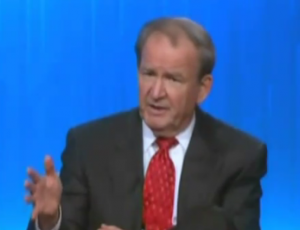 There is a lot to see in this clip from The McLaughlin Group including a wildly colorful sports jacket worn by host John McLaughlin and an even more colorful commentary by conservative commentator Pat Buchanan as he established the arguments against repeal of the Don't Ask, Don't Tell military policy. With most public figures championing repeal as a positive and historical civil rights moment, it's at least unique to hear the opposing view argued so passionately by Buchanan.
Buchanan ranted:
You are trying to impose the values of Fire Island on Parris Island. These are 19-year-old Marines, they're very macho guys. Many of them are Christian traditionalists and you've got these secular values and you bring open homosexuals into the barracks with these guys, it'll be hellish. One Marine commandant said very simply, 'Would moving homosexuals into the barracks with my Marines enhance the fighting effectiveness, the cohesion and morale of our Marine units? I don't believe it would.' Why change something that is working. The Marine Corps is the finest unit in the world, or one of them, and it works. Why impose outside values on them? . . .

The multiculturals in effect won. But there is one culture basically, as I said, to Fire Island, and there is an entirely different culture. You impose one from outside on the other and you're looking for trouble. Our Marines do very well without this.
Regular panelist and liberal commentator Eleanor Clift immediately disagreed with Buchanan's assertions and humorously informed him that gay people actually live outside of Fire Island too. Regardless, with such modern changes to traditional principles, Buchanan believed repeal of Don't Ask, Don't Tell is just further evidence that "society is going downhill."
Worth noting that this was taped on Friday before DADT had been passed on Saturday.
Watch the colorful clip below from The McLaughlin Group:

Have a tip we should know? tips@mediaite.com