Paul Ryan's Iowa Speech Opens With Hecklers Getting Dragged Away And They Just Keep Coming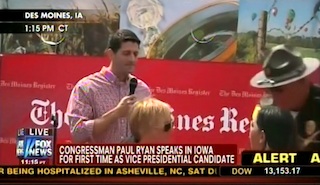 This Mediaite writer was in London for the past week (I was actually winning a bunch of medals. Most people don't realize that "Jon Bershad" is a pen name. I'm really an athlete. My real name is "American Olympic Basketball Team"), so I haven't gotten to hear much from Paul Ryan since he became VP Nominee Paul Ryan. However, it looks like my first day back won't change that. A big speech that Ryan was giving at the Iowa State Fair has been pretty continuously interrupted by a group of very loud protesters.
The speech was set to be Ryan's first big solo appearance on the campaign trail after a weekend standing by the side of the guy whose name comes first on the ticket. As Fox News' Megyn Kelly teased beforehand, this was also going to be a chance for he and the Romney/Ryan team to begin really honing the attacks on President Obama that they would be using throughout the campaign.
However, he barely got a chance to compliment a spectator's "cool" Packers jersey and offer an anecdote about how awesome State Fair wrist band days are before the heckling began.
Caught off guard for a second by a couple of women right in front, Ryan regained his cool and told the rest of the crowd that the women must not be from Iowa or Wisconsin since folks from those states are kind and respectful. He then pointed them out to security guards who crossed the stage and dragged the struggling women out.
Ok, back to it, right? Not so fast. Moments later, another couple, a man (whom BuzzFeed's Zeke Miller got a nice photo of here) and a woman, began shouting for Ryan to "Stop the war on the common good!"
Ryan fans tried to cover the protesters with Mitt Romney signs as Ryan tried to talk over the noise.
Looks like I'll have to wait a bit to get my first full on dose of campaign trail Ryan.
Watch the video from Fox News below:
Have a tip we should know? tips@mediaite.com