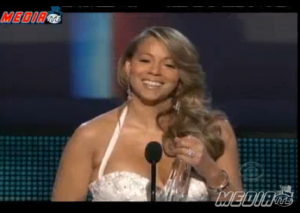 The People's Choice Awards were this evening, and I gotta say, the People made some surprising choices. How is it that the People pick Twilight, Inglorious Basterds, The Big Bang Theory and Katherine Heigel in the same night? The People seem very inconsistent (but then again, the People know more than me because I, confused, said "Miley Cyrus was in a movie?" (She won Favorite Breakout Movie Actress – and I guess the Hannah Montana Movie counts, though that hardly counts as breaking out.)
The People also love Ellen DeGeneres, voted Johnny Depp their favorite actor of the decade, were polite when host Queen Latifah said "M.O.G." instead of "O.M.G," cheered just as loudly for Charlie Sheen, chose The Proposal over The Hangover (the People are clearly idiots), follow Ashton Kutcher on Twitter (M.O.G!), want you to be excited about Robin Hood even if it doesn't feature men in tights, think you can handle Cloris Leachman dressed up like a dominatrix, and love Glee. The People also really, really, really, really love Twilight. The People maybe don't realize just what kind of sore thumb Inglorious Basterds sticks out of there like, but whatever.
The People also like people named Taylor (Swift and Lautner) and apparently love a chance for Mariah Carey to give another speech. Even if she said nothing, though, that dress spoke volumes. Wow. Watch below:


Also:The People chose Steve Carell as favorite TV comedy actor, and he engaged with an amusing bit with his audience, cueing them to yell out "THAT'S WHAT SHE SAID!" after he made an innuendo. Cute. I wonder what Alec Baldwin had planned. Or — sigh — Neil Patrick Harris (Queen Latifah could have used his help in the opening, yikes).


Here are some red carpet photos from HollywoodLife.com and here's the complete list of winners:
Favorite Talk Show – The Ellen DeGeneres Show

Favorite On Screen Team – The Twilight Saga

Favorite TV Obsession – True Blood

Favorite TV Competition Show – American Idol

Favorite R&B Artist – Mariah Carey

Favorite TV Comedy Actress – Alyson Hannigan

Favorite Country Artist – Carrie Underwood

Favorite Animal Show – Dog Whisperer

Favorite Family Movie – Up

Favorite TV Comedy – The Big Bang Theory

Favorite TV Comedy Actor – Steve Carrell

Favorite TV Drama Actor – Hugh Laurie

Favorite TV Drama – House

Favorite Movie Actress – Sandra Bullock

Favorite Breakout Movie Actor – Taylor Lautner

Favorite Action Star – Hugh Jackman

Favorite Male Artist – Eminem / Keith Urban

Favorite Female Artist – Taylor Swift

Favorite Comedic Star – Jim Carrey

Favorite Breakout Music Artist – Lady Gaga

Favorite Breakout Movie Actress – Miley Cyrus

Favorite Rock Band – Paramore

Favorite Music Collaboration – Run This Town

Favorite Comedy Movie – The Proposal

Favorite New TV Drama – The Vampire Diaries

Favorite Movie – Twilight

Favorite New TV Comedy – Glee

Favorite Web Celeb – Ashton Kutcher

Favorite Frandchise – The Twilight Saga

Favorite TV Drama Actress – Katherine Heigl

Favorite Sc-Fi / Fantasy Show – Supernatural

Favorite Independent Movie – "Inglourious Basterds"

Favorite Pop Artist – Lady Gaga

Favorite Movie Actor – Johnny Depp
Have a tip we should know? tips@mediaite.com