Pick-Up Cluck: Scott Brown And His Truck Chicken Out Of Final Debate With Elizabeth Warren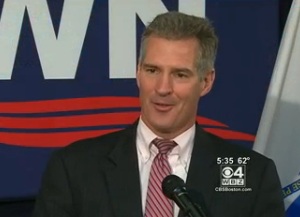 As the race for United States Senate in Massachusetts entered its final week, incumbent Republican Senator Scott Brown was all revved up to attend a fourth and final debate with challenger Elizabeth Warren, who enjoys about a five-point lead in the polls. Despite promises to attend or reschedule around Hurricane Sandy, and despite some trash-talk about giving  Warren a lift in his four-wheel drive pickup truck, however, Scott Brown's campaign has decided the candidate won't be able to make it for a Thursday night match-up with Warren, nor any other night.
Honestly, a candidate dropping out of a debate is never as big a deal as the rival campaign makes it out to be.There's always one candidate who wants more debates, and one who doesn't, and whomever you think won the first three debates between Sen. Brown and Prof. Warren, Brown's decision is probably the politically sound one. With a week to go, and a lot of ground to make up, his time is probably better spent on the ground.
What makes this amusing, though, are the ironclad assurances Brown gave, in advance of the debate, that he was not going to chicken out, he wanted this debate. On Monday, he told the Associated Press, "If it's appropriate we'll have it tomorrow. If not we'll just do it the next day or the next day. Certainly we're going to do it, I think the people want to hear where we stand on all the final issues, a couple of days before the election."
Brown even cockily offered to give Elizabeth Warren a ride to the debate in his famous pickup truck:
But by Monday afternoon, his tune had changed:
But later that afternoon his campaign said he would not appear at the Tuesday debate, saying it was time to focus on storm recovery. While negotiations continued, and Warren agreed to a debate on Thursday, Brown ultimately said it was not logistically possible.
Oh, well, storm recovery is important. Massachusetts is home to 85,000 of the 8 million people who lost power during Hurricane Sandy. What's Brown doing to help out?
"With only days remaining in the campaign, and with a long-planned bus tour kicking off Thursday through Election Day that will take Scott Brown to every corner of the Commonwealth, our calendar simply cannot accommodate a rescheduling of this fourth debate and the planning and preparation that would go into it," campaign manager Jim Barnett said in a statement Tuesday.
I know it doesn't have four-wheel drive, but Sen. Brown could surely still pick Ms. Warren up in that bus, couldn't he?
Have a tip we should know? tips@mediaite.com