Piers Morgan Asks Newt Gingrich: 'Isn't This Stand Your Ground Law A Lot Of Old Nonsense?'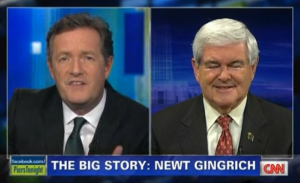 On Thursday night's show, Piers Morgan spoke to guest Newt Gingrich about a host of topics. Among them was the Trayvon Martin story that has jumped to national attention. Morgan asked for the GOP hopeful's perspective on the case, as well as the on the larger issue of Florida's "stand your ground" law.
Morgan called the case an "outrage," and asked Gingrich to comment. He responded that the justice system will work: "I think that Americans can recognize that while this is a tragedy, and it is a tragedy, that we're going to relentlessly seek justice. And I think that's the right thing to do."
Morgan then asked, "Isn't this stand your ground law a lot of old nonsense? Dangerous nonsense, that's now being abused, left, right and center, by people who just want to shoot people."
Gingrich responded:
I think, Piers, you just took an enormous jump. That's like cities that have rules that even is somebody breaks into your house, you can't defend yourself. Both extremes taken in the wrong direction are false. Clearly, you should have the right to defend yourself in your own home. And clearly they should not be translating standing your own ground into pushing somebody else. And that's what it's going to come down to here.
Gingrich further emphasized that we don't yet have all the facts, and will know more as the district attorney moves forward and the grand jury reaches a decision.
Take a look, via CNN:

Have a tip we should know? tips@mediaite.com