Quarantined Nurse Rips Christie's 'Appalling' Response: 'I Don't Think He's a Doctor'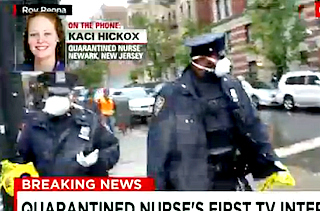 Quarantined New Jersey nurse Kaci Hickox described in the Dallas Morning News Saturday evening the chaotic and somewhat antagonistic process she was forced to undergo after she landed at the Newark airport from treating ebola patients in west Africa, and continued to criticize her treatment to CNN Sunday morning, calling it a violation of her basic human rights.
State of the Union host Candy Crowley asked if Hickox could understand New Jersey Governor Chris Christie's decision to quarantine her as a public safety measure, and Hickox told Christie to shove it.
"It is completely not understandable to me," Hickox said. "It is not based on any clear public health evidence. And it's not the recommendation of public health and medical experts at this point. I think we have to be very careful about letting politicians make medical and public health decisions."
Hickox also criticized Christie's statements about her health to the press.
"I don't think he's a doctor, and he's never laid eyes on me," she said. "I wish that he would be more careful about his statements related to my medical condition. I am not, as he said, quote unquote, obviously ill. I am completely healthy and with no symptoms. If he knew anything about ebola, he would know that asymptomatic people are not infectious."
"For [Christie] — a politician who's trusted and respected — to make a statement that's categorically not true is just unacceptable and appalling," she said in a separate interview with CNN.
Watch the clips below, via CNN:
UPDATE – 03:45 p.m.: Below is a photo of her current living conditions:
Quarantined, asymptomatic nurse in NJ sent CNN these photos of her current living quarters. #Ebola pic.twitter.com/ieaZ7DLcKq

— Vaughn Sterling (@vplus) October 26, 2014
[Image via screengrab]
——
>> Follow Evan McMurry (@evanmcmurry) on Twitter
Have a tip we should know? tips@mediaite.com