Rahm Emanuel To TV Interviewer: 'You Are Wrong And A Bully… I Don't Care About You'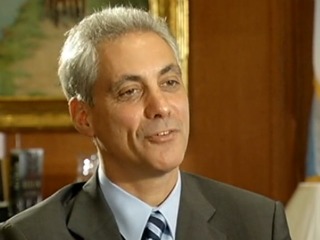 Have you been missing Rahm Emanuel? To be more specific, have you been missing angry Rahm Emanuel? Well then, today is your lucky day.
When asked where his children will attend school in Chicago (a question previously posed to Barack Obama as he prepared to leave Chicago for the White House), the mayor responded by telling NBC reporter Mary Ann Ahern that it was a private, family decision. Fair enough. When pressed by Ahern, however, Emanuel responded thusly:
Mary Ann, let me break the news to you. My children are not in a public position. I am. You're asking me a value statement and not a policy. No, no, you have to appreciate this. My children are not an instrument of me being mayor. My children are my children, and that may be news to you, and that may be new to you, Mary Ann, but you have to understand that I'm making this decision as a father.
Again, fair enough. Harsh, but understandable. He has a point, even if his constituents might like to know whether his children attend a public or private school and, as such, what his personal experience with the school system might be.
Emanuel then stood to leave, and the cameras stopped rolling. Ahern tried to explain the context and importance of her question and that's when, she says, Emanuel grew angry:
As I tried to explain further, Emanuel doubled back. He looked directly at my two college interns, and said, "You are my witnesses."

Then, the Mayor of Chicago positioned himself inches from my face and pointed his finger directly at my head. He raised his voice and admonished me. How dare I ask where his children would go to school!

"You've done this before," he said.

This was the Emanuel we had heard about, and it was one of the oddest moments in my 29 years of reporting.
Later, Ahern gave Emanuel a call in an attempt to "clear the air." When she told him she had felt bullied by his earlier actions, Emanuel responded in an Emanuelesque manner:
You are wrong and a bully. I care deeply for my family. I don't care about you.
Take a look at the recorded interview for yourselves, courtesy of NBC Chicago:
h/t NBC Chicago
Have a tip we should know? tips@mediaite.com