Rand Paul To Snowden: Don't 'Cozy Up' To Russia, China, 'History' Will Judge Him 'Advocate Of Privacy'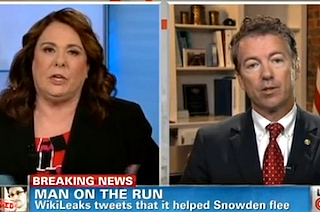 As NSA leaker Edward Snowden moved mysteriously on Sunday morning between Moscow and who knows where, Kentucky Senator Rand Paul defended his actions, telling CNN's Candy Crowley that it was still "an open question how this young man's judged."
"When history looks at this, they're going to contrast the behavior of James Clapper, our National Intelligence Director, with Edward Snowden," Paul said. "Mr. Clapper lied in Congress in defiance of the law in the name of security. Mr. Snowden told the truth in the name of privacy. So I think there will be a judgment because both of them broke the law, and history will have to determine."
Paul cautioned Snowden to choose the right friends from now on.
"If he cozies up to the Russian government, it will be nothing but bad for his name in history," the senator said. "If he goes to an independent third country like Iceland and refuses to talk to any sort of formal government like this, I think there's a chance that he'll be seen as an advocate of privacy. If he cozies up to either the Russian government, the Chinese government, or any of these governments that are perceived still as enemies of ours, I think that will be a real problem for him in history."
Crowley contrasted Paul's defense of Snowden to Charles Schumers' earlier portrayal of Snowden as a reckless lawbreaker, and asked Paul if he thought Snowden shouldn't be prosecuted.
"Mr. Snowden hasn't lied to anyone," Paul said. "He did break his oath of office, but part of his oath of office is to the Constitution, and he believes that, when James Clapper came in March, our National Director of Intelligence came and lied, that he was simply coming forward and telling the truth that your government was lying."
Crowley disputed this point. "I believe that Director Clapper has said that, when he said the U.S. didn't spy on Americans or gather information wittingly, that he was talking about the PRISM program."
Paul objected. "He admitted that he lied, and he said he was saying 'the least of untruthful things.' So he did admit that he lied."
Watch the exchange here, via CNN:
—
>> Follow Evan McMurry (@evanmcmurry) on Twitter
Have a tip we should know? tips@mediaite.com