Rand Paul Walks Back Polygamy Comments On Fox: Marriage Won't Be With 'Multiple Humans'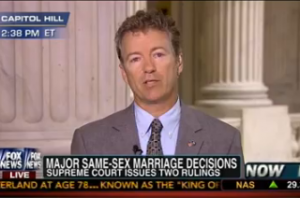 Shortly after he appeared on Glenn Beck's radio show this morning, Senator Rand Paul (R-KY) was forced to walk back comments he made about today's Supreme Court rulings on marriage equality to Megyn Kelly on Fox. Paul had suggested to Beck that he thought the rulings could put America on a path to legalized polygamy or even marriage to non-humans, but soon after he was telling Kelly he does not believe that will happen.
Predicting that Paul will "take some flak" for his comments to Beck, Kelly asked him what he meant when he said, "I think this is a conundrum. If we have no laws on this, people take it to one extension further – does it have to be humans? You know?"
"I think my point that I was trying to make is that government has been involved in marriage for a while and it's been at the state level," Paul told Kelly. "I think if we leave it at the state level, there will be room to disagree." He clarified, "I don't think it will be with multiple humans and I think it will be human and human."
"I don't think we're going on towards polygamy or things beyond that," Paul continued, "but I do think that our country is divided on the issue and that in some ways, the Supreme Court decision is probably going to allow us to agree to disagree." He predicted that while some states like New York may move forward with gay marriage in the short term, others in the south will not for the "foreseeable future."
Paul took great pains to downplay his statements on the issue. But the question remains: was he really misunderstood or was he just willing to say something to Glenn Beck that he was not comfortable saying on Fox News?
Watch video below, via Fox News:
—
>> Follow Matt Wilstein (@TheMattWilstein) on Twitter
Have a tip we should know? tips@mediaite.com