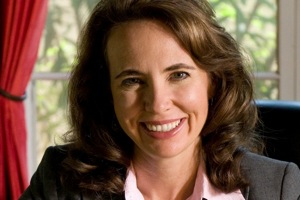 After being shot "point-blank" in the head by a gunman at a public constituent event, Rep. Gabrielle Giffords has passed away is alive, critical, and undergoing surgery, according to NPR. Giffords represented the 8th District of Arizona and was known as a moderate Democrat particularly involved in the border control issues.
Giffords was attending a "Congress on your corner" event and speaking to a couple of constituents, reports say, when a man walked up to her and shot her in point-blank range in the head. Eyewitnesses report they heard around 15-20 shots, and at least two bodies were reported in sight. According to NPR, Giffords has now passed:
U.S. Rep. Gabrielle Giffords of Arizona was shot in the head and killed outside a grocery store in Tucson while holding a public event, Arizona Public Media reported Saturday.

[…]

"Giffords was talking to a couple when the suspect ran up and fired indiscriminately from about four feet away, Michaels said.

The suspect ran off and was tackled by a bystander. He was taken into custody. Witnesses described him as in his late teens or early 20s."
UPDATE: NPR and Reuters have retracted their death confirmations, while MSNBC reports on air that she is currently undergoing surgery and has not died.
Fox News now reporting at least four others killed, including a small child, but retracting confirmation of her death, reporting she is in "critical condition" at the hospital. Official police reports are saying that 19 people have been shot, with five confirmed dead. Initial report, retraction below:

Fox News' retraction, report of Rep. Giffords being alive and in critical condition below:
Have a tip we should know? tips@mediaite.com