Rev. Franklin Graham: Japanese Disaster Could Signal Second Coming, But Media Hype Is Unwarranted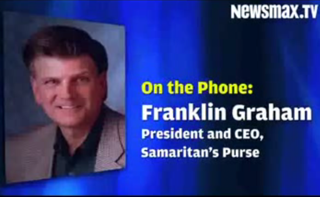 It has been more than a week since Japan was hit with a devastating earthquake and tsunami, and yet only now are religious celebrities beginning to come out of the woodwork to give a spiritual explanation for what occurred. Talking to Newsmax TV, Rev. Franklin Graham confirmed that, indeed, these recent natural disasters could signal the Second Coming of Jesus, but Bill O'Reilly was right in calling out the media for exaggerating the severity of the disaster in Japan.
Opening with a quick recap of this century's disasters– Hurricane Katrina, earthquakes in Haiti and Japan, the tsunami in Indonesia– the host asked Graham just how worried the world should be that these are the end times. Graham replied that the signs are clearly there, that wars and famine and earthquakes are precisely what would indicate the end of the world. "It would be like labor pains," he explained, "and as a woman gives birth to a child, those labor pains start intensifying with more frequency." While he clarified that he didn't know for sure if this was the end of the world, he saw a good argument for it.
Graham also answered questions about Glenn Beck ("he's a charming guy") and O'Reilly, specifically whether the latter was correct that the hype over potential "nucular" disaster in Japan. "No question, when you talk about nuclear, that scares me, ok?" Graham allowed. But he also thought "O'Reilly has a point… you can sell newspapers and you can get your ratings up."
The interview with Newsmax TV below:

Have a tip we should know? tips@mediaite.com