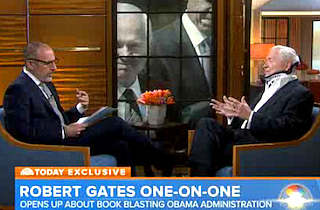 Former Defense Secretary Robert Gates appeared on the Today Show Monday morning to address the firestorm his forthcoming memoir started over allegations that President Barack Obama lost faith in his Afghanistan War strategy.
"I was disappointed that the book has been hijacked by people along the political spectrum to serve their own purposes, taking quotes out of context, part of the political warfare in Washington that I decry in the book," Gates said.
"What has been lost in the news media is I actually agreed with virtually every decision Obama made on Afghanistan," Gates continued. "I said, along the way, when [Obama] made those decisions, particularly on the Afghan surge in November 2009, I absolutely believe he was convinced it would work. The way I outline it in the book is his reservations began to grow in the spring of 2010. But as late as December 2010 he was still saying we were on the right track in Afghanistan."
RELATED: Jeffrey Goldberg Smacks Down Santorum: Overplaying 'Scandal' Quality of Gates Memoir
Gates also addressed a controversial scene in which he alleges that then-Secretary of State Hillary Clinton and Obama intimated that their opposition to the Iraq War surge had been political.
"The president conceded that a lot of the opposition to the surge had been political. He never said that his opposition had been political, and in fact his opposition was consistent to his opposition to the war all along…[Clinton's] was such an anomaly. The whole time I served with Secretary Clinton, I never heard her, as Secretary of State, discuss domestic politics in any way shape or form as influencing her recommendations to the president or her views on issues of national security…[But] there's a difference between when you're in the Senate and you're campaigning for office, and when you have the responsibility office. When she had the responsibilities of office, as I said, I never heard her bring domestic politics into the issues."
Watch the full clip below, via NBC News:
Visit NBCNews.com for breaking news, world news, and news about the economy
[Image via screengrab]
——
>> Follow Evan McMurry (@evanmcmurry) on Twitter
Have a tip we should know? tips@mediaite.com