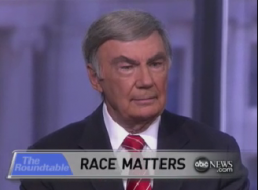 It goes without saying that the predominant topic on Sunday's roundtables was the Shirley Sherrod debacle. In an excellent segment on This Week, Donna Brazile, who according to MoDo was the person who "after hearing the entire speech, pushed to get it out and helped clear Sherrod's reputation on CNN" expressed some doubt over whether the White House had nothing to do with the decision, as they have claimed.
They told me the same story, and I'm reluctant — and I trust the source. My source said we had nothing to do with it, but, you know, once we got on top of it, we moved it…

But the truth is, is that the White House jumped the gun, Fox News and others who allowed this — this — this bogus tape to hit the airwaves…and the NAACP… that did not call their local chapter, did not confer with Ms. Sherrod, it's a mind-boggling story. I talked to Ms. Sherrod. You know, when you grow up in the deep South, as I did, you know the — you know the history of the movement and you know the history of the Sherrod family. You know Shirley Sherrod's personal story. I'm ashamed that so many people failed to even just simply Google her name.
Brazile later called on Andrew Breitbart to be fired.
Cokie Roberts, who noted she'd once had a cross burned on her lawn, agreed: "The truth is, the only people who could fire her were the administration. Fox News couldn't fire her. The NAACP couldn't fire her. Only the administration could fire her. So they really bear the most culpability here, I think by a long shot."
And, at the end of the day that is the painful, disappointing truth. Jake Tapper, to his credit did not allow Andrew Breitbart to go unscathed here (in the larger picture he seems to have been subsumed under criticism, justified or not, of Fox), saying quoting Josh Marshall at TPM:
"Breitbart got a piece of video he knew nothing about and published it with a central claim that he either made up or made no attempt to verify. To use terminology of infectious disease, Fox was the primary vector of this story. And to the best of my knowledge, there's been not only no disciplining of anyone in the newsroom, but as far as I can see, no retraction, apology, or even discussion of their primary role in an obvious smear. This is a journalistic felony, really, the worst kind of thing that journalists can ever do, a reality only compounded by the fact that they refuse to admit not only culpability but even that they did anything wrong."
Fighting Sam Donaldson meanwhile, thinks the President shouldn't be afraid of a good fight.
But from the standpoint of Obama and the administration, who are these people that they should pay attention to and be afraid of? Who's Glenn Beck? I mean, who's Bill O'Reilly? Who's Brett whatever his name is?…I want to quote another president who also said he had enemies, I'm going to — of financial monopoly, speculation, reckless banking, class antagonism, sexism. They are unanimous in their hatred for me, and I welcome their hatred, said Franklin Roosevelt, who said I ask you to judge me by the enemies I have made.

So, President Obama, don't be afraid of them. Take them on, and let the people judge. You may lose, but if you lose, you will lose grandly.
One can only hope. Watch below. Side note: This was Jake Tapper's last week as host of This Week, Christiane Amanpour begins her tenure next Sunday, and suffice to say she has some big shoes to fill.
Have a tip we should know? tips@mediaite.com