Santorum Chews Out NYT's Jeff Zeleny: 'Quit Distorting My Words… It's Bullsh*t!'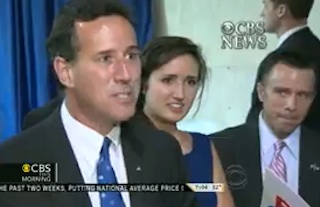 CBS This Morning had the exclusive video of Republican hopeful Rick Santorum's blowup at New York Times reporter Jeff Zeleny. Zeleny asked the former Pennsylvania Senator if Romney was the worst Republican in the country, which set off Santorum.
"What speech did you listen to? Stop lying! I said he was the worst Republican to run on the issue of Obamacare. And that's what I was talking about! […] Would you guys quit distorting what I'm saying? […] I've been saying that at every speech. Quit distorting my words, if I see it, it's bullshit!" Santorum erupted. "Come on, man! What are you doing?"
"You sound upset about this," Zeleny observed.
"I'm upset when the media distorts what is I say," Santorum hit back. "Yeah, I am. I do get upset. 'Cause you know exactly what I was saying and you're misrepresenting it. […] What are you guys in the business of doing, reporting the truth or are you here to try to spin and make news? Stop it! You don't care about the truth, do you? Asking that questions shows you don't care at all about the truth."
Charlie Rose questioned Zeleny over the exchange, and asked him whether he was distorting Santorum's words.
"No, simply asked for clarification," Zeleny replied. "He said in his speech to a room full of supporters that he believes Mitt Romney is the worst Republican in the country. Health care was not attached to that sentence in his sound bite there, so simply asking him for clarification. And he did, in fact, explain in full there that health care is what he was talking about."
Following the incident, Santorum sent out an email to supporters, alleging Zeleny "aggressively attacked him":
…while campaigning in Wisconsin, I criticized Romney and Obama for their outrageous healthcare legislation. Predictably, I was aggressively attacked by a New York Times reporter all too ready to defend the two of them, and all too ready to distort my words. Let me assure you, I didn't back down, and I didn't let him bully me. I think it is high time that conservatives find the courage to expose the liberal press for what they are, a defender and enabler of Romney's and Obama's liberal agendas.
"He can certainly do whatever he likes," Zeleny responded. "He's trying to make his case to Republican voters here. It's a very common tactic for Republican presidential candidates or even Democratic presidential candidates to try to use the media as a foil here…"
Watch Santorum's outburst below via CBS This Morning:
Have a tip we should know? tips@mediaite.com