Sarah Palin To Donny Deutsch: 'Look At The Bill Mahers' Of The World Before Calling Politicians Negative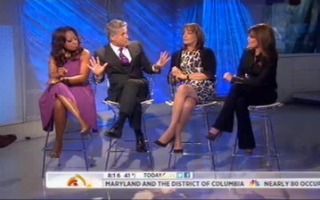 As part of her hosting duties this morning, former Alaska governor Sarah Palin sat on the panel for "Today's Professionals" along with Star Jones, Donny Deutsch and Dr. Nancy Snyderman.
RELATED: Matt Lauer Asks Sarah Palin: Should GOP Nominee Choose Running Mate With More Experience Than You Had?
The panel weighed in on such topics as Oprah Winfrey's candid remarks about OWN on "another morning show." Palin commended Winfrey on showing "guts" and "grit." Deutsch made an interesting parallel, opining that Winfrey and Palin share a similar appeal and accessibility because they are both willing to admit to what they don't know or aren't necessarily great at. Palin then offered Winfrey some advice: Put more conservatives on OWN.
Talk then turned to singer and fashion mogul Jessica Simpson's much-talked about pregnancy weight. "She's pretty fat," said Dr. Snyderman, while noting that she doesn't like it when the "lamestream media" criticizes pregnant women. Palin added that she would have wanted to punch someone in the neck had they told her she'd gained too much weight while pregnant and that a lot of the discussion whirling around Simpson is based on the fact that women in Hollywood are often unnaturally "itty bitty."
The panel then tackled a new Facebook app that organizes one's "enemies" on the social networking site. When Deutsch observed that politicians lend to a culture of negativity, Palin pointed out that politicians aren't the only ones who engage in negativity. "I mean, look at the Bill Mahers of the world," she told him. Deutsch brought things back to Palin's earlier interview on the show, where she said she'd support "anyone but Obama" in the upcoming election, thus "setting him up as the enemy."
When the discussion focused on Ashton Kutcher's new role as Steve Jobs, Palin asked the rest of the panel whether any of them had "experience with people being paid a lot of money to pretend like they're you" — referring, of course, to the HBO TV movie Game Change, wherein she was played by actress Julianne Moore. While Palin said she has no plans to watch the movie, she did share something rather surprising:
I do have to admit that Tina Fey has been pretty clever.
Check it out, via NBC:
Have a tip we should know? tips@mediaite.com