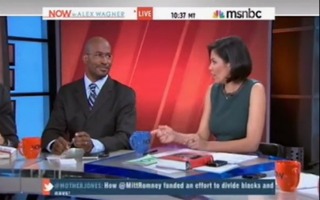 Appearing on MSNBC's Now with Alex Wagner, former White House advisor Van Jones said that embracing gay marriage, or even being gay himself, would not lose President Obama any support among African Americans.
RELATED: President Obama Still 'Thinking About' His Beliefs On Marriage Equality
"If you talk about black voters versus progressive voters – the idea of driving a wedge – do you think that Obama would lose some of the black vote if, in fact, he did come out in support of gay marriage," Wagner asked Jones.
"I think if President Obama came out as gay he wouldn't – President Obama is not going to lose the black vote no matter what he does," responded Jones without hesitation to laughs from his fellow panelists.
"I don't understand this particular strategy," Jones continued. "Certainly, our numbers are a little bit more – because we're more religious as a community – a little bit softer on some of this stuff, but it's not a hardcore issue for that many African Americans."
Jones went on to critique opponents of gay marriage. "I don't even understand the argument that gay marriage is a threat to marriage. It's not like there is some – if the gay people get married then the heterosexual people gotta get divorced," said Jones. "There is some shortage of marriage. They're [homosexuals] are trying to come and get all the marriage that's left. It's just kind of nuts."
"You can play to that sentiment, but I don't think it shows up at the ballot box at all," Jones concluded.
Wagner went on to say that she believes "President Obama is, of course, in support of gay marriage. He just can't come out and say it yet." For several years, the president has said that his position on gay marriage is "evolving."
With support among Americans increasing for gay marriage rights some like prominent Democrats, like Massachusetts Senate candidate Elizabeth Warren, are advocating that Democrats make gay marriage part of their party's 2012 platform.
Watch the panel segment below via MSNBC:
Have a tip we should know? tips@mediaite.com