Scarborough: Judges Ignoring Gay Marriage Ruling an 'Embarrassment' to Alabama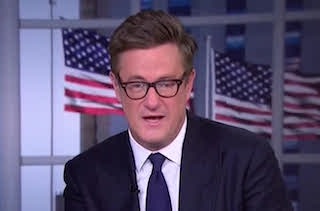 On his show Tuesday morning, Morning Joe host and Alabama son Joe Scarborough lit into Alabama judges who were ignoring the Supreme Court order to begin issuing same-sex marriage licenses.
After the Supreme Court denied the state a stay pending a ruling later this spring, effectively legalizing the practice, Alabama Chief Justice Roy Moore ordered probate judges to ignore the ruling. Some did, some didn't; some couples got marriage licenses, others filed to hold judges in contempt, and we had ourselves a good ol' fashioned Alabama holler squabble.
Scarborough called the judges ignoring the SCOTUS ruling an "embarrassment."
"Even though I understand your concern with the ruling and I had some of the same concerns," he said, "that gives you no right to ignore the law of the land. It gives you no right to ignore everything you were taught in law school. And it gives you no right to cast a shadow over the state of Alabama."
"We have survived over two centuries because the law of the land still rules us all," Scarborough said. "If we don't like how federal judges are making laws, there's a way to get around that. It's not be defying the federal government. It's by winning elections and appointing judges that actually share your view of what America should be, what our society should be, and what the Constitution of the United States should be and how it should be interpreted."
Watch the clip below, via MSNBC:
[Image via screengrab]
——
>> Follow Evan McMurry (@evanmcmurry) on Twitter
Have a tip we should know? tips@mediaite.com