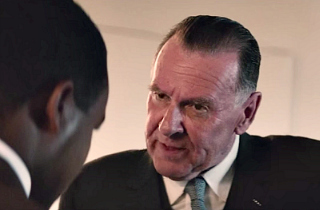 Joseph Califano, President Lyndon Johnson's domestic affairs advisor and the man more responsible than any for dropping on an anvil on the film Selma, raised some eyebrows in a December op-ed when he claimed that the march on Selma was "Johnson's idea."
At a talk at Hunter College's Roosevelt House Monday evening, Califano addressed his statement. "The idea of finding a terrible place in the south was LBJ's idea," he explained to a sold-out crowd.
Califano described a phone conversation between Johnson and Martin Luther King, Jr. in which Johnson told King he could "make a contribution."
"I want you to find the worst place in the south where negroes have to recite the Constitution to vote and whites don't," Califano recalled Johnson as saying. "I want you to go down there and get it on the TV and the radio and repeat it and repeat it until a guy who drives a tractor all day says 'it just isn't fair.'"
"LBJ stressed it should be everyone's right to vote, not just the negroes'," Califano added, noting that he was employing the vocabulary in use at the time.
The claim was part of Califano's prosecution of the film for alleged inaccuracies in its portrayal of Johnson, which were avidly rebutted by director Ava DuVernay. Califano cited the film for portraying Johnson as hesitant on voting rights and an antagonist of King's, where Califano, who was present for many of the discussions, believed Johnson to have been a full-throated advocate. The criticism from Califano and others, which was soon roughly confirmed by figures like MLK aide Andrew Young, is suspected to have hurt the film's Oscar contention.
In answer to a question from the crowd, Califano declined to speculate on why DuVernay portrayed LBJ as she did. "I've had enough problems with Selma without trying to figure out what was going on in her head," he said.
Califano went on to describe the Johnson-King relationship as a "real, true partnership" that lasted beyond the mid-decade civil rights legislation to the later race riots. "I myself talked to King," he said. "When we had trouble in Watts or Los Angeles, LBJ said, 'Call King and get him out there, or have him get his people out there.' And they did!"
"If you want contrast," Califano added, "can you imagine anyone saying 'Call Al Sharpton?'"
[Image via screengrab]
——
>> Follow Evan McMurry (@evanmcmurry) on Twitter
Have a tip we should know? tips@mediaite.com