Secretary Of State Hillary Clinton Deep In 'Thought' During President Obama's Myanmar Speech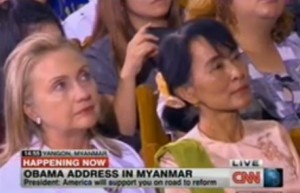 As part of his trip through several East Asian nations, President Obama delivered a speech at Myanmar's University of Yangon in Rangoon at about 2:30 in the afternoon, local time. The speech aired live in the U.S. at around 3 am, which is, presumably, the time clock that most American bodies were following at that time. The President spoke eloquently of the reforms that have begun to take hold in Myanmar (also known as Burma), and the work yet to be done, and while Secretary of State Hillary Clinton hung in there for about the first half-hour, she eventually succumbed to what appeared to be a deep meditative state.
CNN's cameras first checked in with Secretary Clinton about fifteen minutes into the speech, seated next to Nobel Peace Prize winner and former Burmese dissident Aung San Suu Kyi, who is now a member of Burma/Myanmar's parliament. Sec. Clinton appeared engaged, if a little bit blinky, but by the time the President's remarks were nearing their finale, the reaction shot was somewhat more, shall we say, subdued:
Really, though, who could blame her? I don't know a single reporter who hasn't nearly passed out in the East Room in the middle of the day during a presidential speech. It's drier than sandpaper in a pizza oven, and the President's delivery can be quite lulling. I can't imagine what it's like to sit through one jet-lagged by a half a day.
Myanmar is the nation's official name, but as CNN explains, is not what everyone calls it:
The name Myanmar was introduced by the former military regime 23 years ago and is preferred by the country's current leaders. Until Monday, the Obama administration had largely stuck to the British colonial name of Burma.

Deputy National Security Adviser Ben Rhodes told reporters that Obama exercised "diplomatic courtesy" in referencing Myanmar instead of Burma when meeting with Thein Sein. The official U.S. position continued to be that the country's name is Burma, Rhodes said.
The President has taken some criticism from human rights activists for "rewarding" Myanmar with a presidential visit when the country's reforms are far from complete, but the President addressed that criticism at a press conference in Thailand over the weekend, and echoed that response in his speech at the University of Yangon. "When I took office as President," he said, "I sent a message to those governments who ruled by fear. I said, in my inauguration address, 'We will extend a hand if you are willing to unclench your fist.' And over the last year and a half, a dramatic transition has begun, as a dictatorship of five decades has loosened its grip. Under President Thein Sein, the desire for change has been met by an agenda for reform. A civilian now leads the government, and a parliament is asserting itself. The once-outlawed National League for Democracy stood in an election, and Aung San Suu Kyi is a Member of Parliament. Hundreds of prisoners of conscience have been released, and forced labor has been banned. Preliminary cease-fires have been reached with ethnic armies, and new laws allow for a more open economy.
"So today, I've come to keep my promise and extend the hand of friendship," the President added.
The President's visit also seems like a good way to promote reform by rewarding, and elevating, reformers like Aung San Suu Kyi, with whom the President met at the site of her years of house arrest.
Have a tip we should know? tips@mediaite.com