Sen. Inhofe Tells Soledad O'Brien Not To Worry About Ted Nugent, Bobby Kennedy Poses 'Real Threats'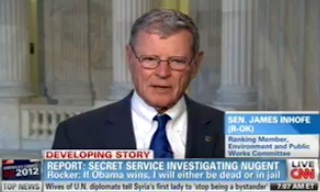 Oklahoma Republican Senator James Inhofe told Soledad O'Brien that he didn't understand what all the fuss was about over rocker Ted Nugent's controversial comments directed at President Obama.
"I can't figure out what people are talking about," mused Inhofe, not missing an opportunity to plug his book. "He's talking about him — that Ted himself will either be dead or in jail. Now how does that relate to the President? I have a real hard time putting that together. If you want to see how you can be abused, read my book The Greatest Hoax and see what Bobby Kennedy, you know, he wanted to hang me for treason and, so, if you want to see some real threats, you can see them. I don't know what they're talking about."
Inhofe was referring to environmentalist Robert F. Kennedy, Jr who has long been a thorn in the side of the Oklahoma Senator over his denial of climate change.
RELATED: Robert F. Kennedy Jr. Calls Sen. Inhofe 'Big Oil's Top Call Girl'
Guest panelist Neftali Bendavid was perplexed by Inhofe's inability to find Nugent's comments troubling.
"Admittedly the comment was hard to understand what he was getting at," Bendavid acknowledged. "But one interpretation said he was going to somehow attack the president and that's the reason he would wind up in jail or dead. The Secret Service is taking it seriously enough to go after it. So I guess I'm puzzled by your puzzlement to why the reaction has been as strong as it has."
"I think that anyone could put an interpretation on like that," Inhofe said. "I just didn't hear that because that's not what he said and it is confusing because it's hard to say, why would he be dead and now we're talking about Ted, not the president. and I didn't quite understand it."
Watch Sen. Inhofe downplay Nugents comments below via CNN:

Have a tip we should know? tips@mediaite.com