Sen. Pat Toomey Cuts Off Soledad O'Brien, Calls Her Question 'Factually Wrong And Ridiculous'
Sen. Toomey Cuts Off Soledad, Calls Her Question 'Factually Wrong And Ridiculous'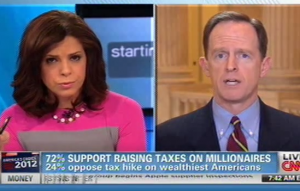 Sen Pat Toomey (R – Pa.), a member of the Joint Economic and Budget Committees, was a guest on Starting Point Tuesday morning, and discussed President Obama's budget proposal, which he sees as not doing enough for the deficit or entitlements.
"[President Obama] gives us a budget." Toomey said, "in which spending grows, taxes are higher, it spends even more than the tax increases, and gives us a bigger deficit than we had last year, and no reforms at all on the fundamental driver of these programs."
O'Brien then offered up Toomey's plan for cutting the budget.
"Here's what you propose," she said. "Tax cuts for the wealthy. For people who are making under $200,000, taxes would rise. You would limit the child credit. You would limit –"
"Wait a minute," Toomey interrupted, "I got to stop, because that's factually ridiculous."
"Really?" O'Brien asked.
"Yeah, factually wrong and ridiculous and not close,"
"What part of that?"
"Raising taxes on people whose income is lower than $200,000," Toomey said. "What I've said is we should make the current tax rates permanent. In fact, what I prefer to do — that's at a minimum — would be something like what I proposed in the super committee, which was a process by which we would simplify the tax code. Get rid of some of the deductions and loopholes and credits and broad den the base by which we apply taxes but do it lower rates for everybody."
O'Brien later brought up parts of the proposal that "we're not arguing over," as well as Toomey's time on the Super Committee, and the low Congressional ratings.
Watch a video of the contentious interview below, courtesy of CNN:
Have a tip we should know? tips@mediaite.com