Sen. Paul Says Christie Started It: Saying GOP Has No Room for Libertarians Was 'Big Mistake'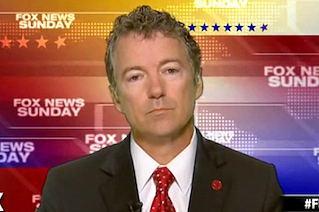 On Fox News Sunday, Kentucky Senator Rand Paul blamed New Jersey Governor Chris Christie for starting the weeks-long intra-party feud that has revealed a rift between the libertarian and conservative wings of the GOP.
"This all started with him saying, 'We don't have room for libertarian Republicans,'" Paul said. "That's how we grow our party. Libertarian Republicans like myself care about the right to privacy. We care about a more moderate, less aggressive foreign policy. I think that will bring new people to our party."
"The party in the northeast is shrinking, almost down to nothing," Paul reminded Christie. "They need to be looking to people with new and different ideas who will attract youth, independents and even Democrats to our party. So saying there's no room for us was a big mistake on their part."
The feud between the two figures had simmered down after weeks of sniping, but was reignited last week when Paul's father Ron Paul accused Christie of having little to offer the contemporary GOP. Paul the younger wouldn't go that far, but did criticize Christie's approach to government.
"Some of the things that [Christie] seems to have promoted make us believe that he thinks there's a lot more spending that could go on," Paul said. "I think that national defense is a priority for our country, and the only way we have enough money for national defense is actually to be very, very frugal with other spending, and that is a valid disagreement that we have."
Watch the full clip below, via Fox News:
————
>> Follow Evan McMurry (@evanmcmurry) on Twitter
Have a tip we should know? tips@mediaite.com