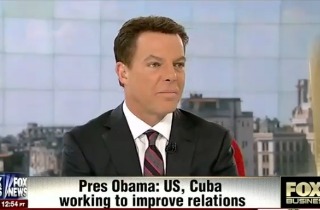 Reacting to the news that President Barack Obama intends to loosen restrictions on the U.S. embargo on Cuba, Fox News anchor Shepard Smith wondered whether we'll "ruin" the island nation with the influx of capitalist goods rather than basic necessities.
"I think the last time I went [to Cuba], I brought back Cuban rum, Havana Gold for like four dollars," Smith reminisced. "Think of how all of that will shift if this actually happens."
His guest, Gerri Willis of the Fox Business Network, noted that PepsiCo put out a statement on Wednesday asserting their eagerness to begin trading with Cubans.
"You know the fear among anybody who's ever been there or who cares at all about the Cuban people, as so many of us do," Smith continued, "the last thing they need is a Taco Bell or a Lowe's."
"Toilet paper, toothbrushes, right?" Willis replied with a chuckle.
"It all sort of comes together and, you wonder, are we about to get up in there and ruin that place?" Smith asked.
Watch below, via Fox:
UPDATE — 6:37 p.m. ET: We do feel it's important to point out that in the segment before these remarks were made, Smith talked Cuba with Judge Andrew Napolitano and the pair had a lot of thoughtful things to say about how relaxed trade restrictions with the island nation would work. At the end of the segment, Smith suggested that, without question, more freedom is better, but that the speed at which you free people stuck in the 1950s could have ramifications. Watch below:
Have a tip we should know? tips@mediaite.com