Soldier Who Lost Limbs In Afghanistan Shares His Inspiring Story With Fox's Jenna Lee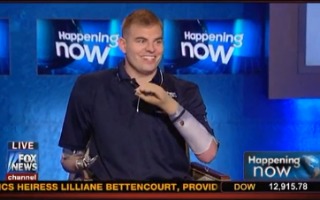 Tuesday's Happening Now got a head start on commemorating the 4th of July by interviewing the inspiring (and quite hilarious) Staff Sgt. Travis Mills. Mills lost his arms and legs after surviving an IED explosion in Afghanistan and, with the use of a motorized wheelchair and new prosthetic limbs, he is now steadily gaining increased mobility and body strength with the hopes of being able to walk on his own again.
Host Jenna Lee asked Mills to talk about what happened that day in April. He remembers it being around 4 p.m, and he'd asked why his team was going out if dinner was going to be served within an hour. "We were walking along," he recalled, "and I happened to set my bag on the wrong spot, and it was full of ammo. And. My bag went 'boom.'" He remembers looking down to see only two fingers left on one of his hand, which had to be removed as the skin on his arms was dying. He was awake throughout the entire ordeal. "They call it shock," he joked. "I call it adrenaline."
His goal, he says, is ultimately to be able to walk on legs that make him fully 6 foot 2 again (he's currently on "short legs" that bring him to 5 foot 4), so that he can stand before his fellow soldiers and welcome then home upon their return.
After joking that his amazing drive comes from energy drinks, Mills said he's just always had a "happy outlook." After all, he told Lee, "life has to go on," plus he has a baby daughter (who is, judging from the videos, approximately 92% cheeks) to look out for.
If you want to see more of Mills, be sure to tune in to Megyn Kelly's program tomorrow.
And do have a look at his chat with Jenna Lee below, via Fox News:
Have a tip we should know? tips@mediaite.com