Soledad O'Brien Talks To Mediaite About Starting Point's Obstacles, Her New Role, And Remaining 'Nauseatingly Optimistic'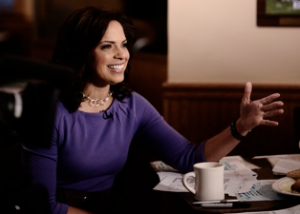 Anyone following the world of cable news would be aware of the shakeup at CNN under new boss Jeff Zucker. Along with some new hires, the first signs of his taking the reins have included revamping the network's morning programming — replacing Soledad O'Brien's Starting Point. In spite of the change, O'Brien isn't marking the end of her relationship with CNN. She spoke to Mediaite about her show, her new role, and what she'll miss the most.
After parting ways with Starting Point — which O'Brien has anchored since its premiere in January 2012 — she'll turn her attention to documentaries and special projects, through her production company, Starfish Media Group.
"I don't really look at my relationship ending with CNN," she says, though she'll be a "free agent," able to produce and distribute projects for other networks (just at the beginning stages of discussions, her "door is open").
O'Brien's previous documentaries have included Black in America, Latino in America: Courting Their Vote, and Unwelcome: the Muslims Next Door. Glad to have access to her existing catalog of projects, she welcomes the luxury to explore issues she's personally invested in — stories she likes and finds "personally interesting."
One such topic, which she's "pitched for a long time," is Poverty in America. The common thread, she says: "Stories that often fly under the radar with other people." Individual stories that simultaneously open up a larger conversation about the country.
O'Brien exudes optimism and excitement about pursuing work she is genuinely passionate about — which is not to say she's disinterested in returning to an anchor role. Eager to take time off in the summer after a "grueling" year and spend time with her family, O'Brien offers a definitive "no" for the short term. But looking farther in to the future, she'll "absolutely" consider it.
Currently, though, O'Brien is still working on Starting Point, and in retrospect, wouldn't have done anything differently. "I don't think it was really up to me," she says, adding that her team tried to do their best, but there were "some circumstances that we couldn't escape."
Inadequate promotion, "no marketing dollars," and the lack of full staff were among the problems, she explains, not "bitterly," but as fact. "We never really had real consensus on what the show should be," O'Brien asserts. "You really cannot successfully do a show when nobody really agrees what the show is."
While openly listing the obstacles, O'Brien is also proud of what her and team accomplished with the show — namely in terms of the interviews, many of which made headlines during the election cycle. Be it Mitt Romney surrogate John Sununu, former New York City Mayor Rudy Giuliani, or then-Sen. John Kerry, her guests often made for explosive, contentious segments.
Such interviews, she says, were the shows biggest strength: "We carved out a niche in holding people accountable, on both sides of the aisle, to not make stuff up." A good debate makes for a good interview, which entails: "a lot of studying, a lot of research, a lot of prep, a lot of great booking, and a lot of really aggressive editorial direction."
"Without tooting our own horns," she adds, "I think we really made an impact on that front." (Many of "sorry to see you go" emails she's received, she adds, have been from the very people she clashed with on air.)
Unaware of any specific details about the approach the new morning show, co-anchored by new hire Chris Cuomo, will take, O'Brien praises Zucker for having a "very clear vision." Before he took over, O'Brien knew he'd be focusing on morning programming — so she wasn't surprised and she enjoyed having discussions with a "direct" person.
The conversations were straightforward, allowing them to "find common ground," which she largely attributed to Zucker's "entrepreneurial" spirit. "It's enjoyable to talk to someone who has a real point of view," she notes.
Speaking of changes at the network, O'Brien readily dismisses any criticism about CNN's diversity. "Diversity is not about one person," she says. "Me leaving the network, or working in a different capacity on the network, does not and should not affect a company's commitment to diversity." It's "what the company believes."
At the end of the day, once Starting Point reaches its end, O'Brien (happy to escape her tough schedule) will miss, most of all, her team.
"You miss your staff, you miss the people you work with," she says, laughing at she recalls 9 a.m. drinks. "That schedule is a slog at times, and the only thing that makes it bearable and doable is that you work with great people."
"I know that those people will continue to be in my life," she adds. "I have no intention of sending a goodbye note."
A "nauseatingly optimistic person," O'Brien sees no value in the "woe is me" mentality: "You get what you get."
Have a tip we should know? tips@mediaite.com