Stephen Colbert Writes Jimmy Fallon A Valentine, Hoping To End Ice Cream-Fueled Feud
Stephen Colbert Writes Jimmy Fallon A Valentine, Hoping To End Ice Cream Feud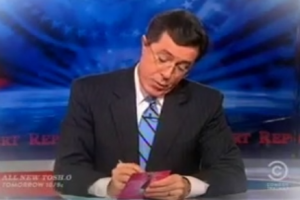 Fans of late night television are likely familiar with the running Stephen Colbert/Jimmy Fallon "feud," which began — as these things often do — with sales of Ben & Jerry's ice cream. On Monday night's Colbert Report, which returned after a week off, Colbert attempted to bury the hatchet with Fallon by writing him a Valentine's Day card.
Colbert began the segment by promoting "the most romantic holiday of the year" — Stephen Colbert's Americone Dream Free From 5 to 8 p.m. At Participating Ben & Jerry's Scoop Shops Nationwide Day. "Stop by for a free scoop with your lover," Colbert said, before noting that it also happens to be Valentine's Day, which he sees as a day to reflect on your loved ones and those you hate, like, in Colbert's case, Jimmy Fallon.
Colbert took a few digs at Fallon's Ben & Jerry's flavor, "Late Night Snack," saying that one of the ingredients in it was mule, and wondering if the reason it was selling more than his own flavor was that they were using it to chill bodies at the morgue. He eventually broke down, though, realized he missed his friend, and decided to send him a Valentine.
"My Dearest Jimmyest,

I know we're supposed to be eternal enemies until March 3, but without you, I feel like vanilla ice cream with salted caramel and fudge-covered potato chip clusters. Terrible. Sometimes I lie awake at night wishing for a glimpse of your face. But I always fall asleep before your show comes on. So I hope you'll accept this token of our friendship and let's be best buds again. Please read this next sentence in a whisper: I miss us.

Sincerely yours, The Reverend Sir Dr. Stephen T. Mos Def Colbert D.F.A., dictated not read."
Watch a clip of the segment below, courtesy of Comedy Central:
Have a tip we should know? tips@mediaite.com