Stossel Defends Obama Giving States Freedom To Experiment With Welfare's Work Requirements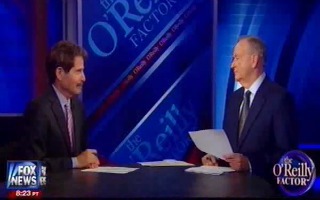 In a segment with Bill O'Reilly on Tuesday night, libertarian Fox News Channel host John Stossel defended President Barack Obama's recent decision to allow the states more flexibility to define work requirements for welfare beneficiaries. Stossel broke with Republicans who have criticized the measure as the possible watering down of the 1996 welfare reform compromise. Stossel said that, if states think they can make those work requirements more strict, they should be allowed to try.

Republican attacks on the Obama administration for allowing states more flexibility in defining the work requirements for welfare often claim that the work requirements are being made more lax. Fact checking organizations have pushed back on that claim, saying that there is little evidence to suggest that work requirements will be made weaker under the new rules.
Stossel was asked if he thought that conservatives who attacked the president for reducing the work requirements in welfare through the executive branch were correct, he echoed the fact checkers saying that there was no evidence to back up that claim.
"There's no real evidence that they're intentionally watering down the work standards," said Stossel. "He did give this dictum – which may or may not be constitutional – that says you don't have to obey these work requirements."
Both Stossel and O'Reilly praised the 1996 welfare reform compromise which resulted in the significant reduction of the welfare rolls.
"Why on earth would you want to water that down," O'Reilly asked.
"Because states are asking for this," Stossel replied.
"Who cares if the states want to experiment if the federal law is working for the good of the country," O'Reilly inquired.
Stossel replied that he says the work rules in welfare are already watered down by the federal administrators who oversee the program. He says that more state control would tighten restrictions on those work requirements.
O'Reilly said that he thought the changes to the program were a "horrible mistake." He warned that experimenting with taxpayer money is dangerous and there should have been a pilot program to test state control over welfare.
Watch the segment below via Fox News Channel:
> >Follow Noah Rothman (@Noah_C_Rothman) on Twitter
Have a tip we should know? tips@mediaite.com