John Stossel Panhandles To Prove 'You Really Shouldn't Give To These Street People'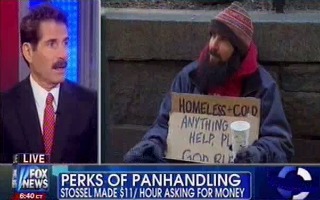 Fox Business Network host John Stossel appeared on Fox & Friends on Thursday to promote an upcoming segment on his program where he dresses like a homeless man and panhandles on the streets of New York. He says he was conducting an experiment in order to see how much money he could raise for a segment entitled "nation of freeloaders."

RELATED: Stossel: Privatize The Post Office, Amtrak And Service Will Improve
"Yes, we are turning into a nation of freeloaders because you feel like a sucker if your not when government keeps offering it to you," said Stossel.
Co-host Brian Kilmeade cited the government promoting nutritional assistance programs via radio and television ads as an example.
Fill-in host Peter Johnson asked Stossel if he had ever been a freeloader. "Yeah," said Stossel. "To be fair, it's wealthy people who do most of the freeloading. Corporate welfare, farm subsides and I collected federal flood insurance because I had a beach house."
The hosts showed video footage of Stossel dressed as a homeless person and asked him how his experience as a panhandler went?
"I had heard that some people beg for a living and make big bucks — $80,000 a year in some cases," said Stossel. "I made at a rate of about $24,000 tax free — I just did it for a couple hours — But, with one sign that said 'help, I really need help,' and one sign that said 'hey, I'll be honest with you, I just want a beer.' I collected the same rate."
"People just automatically give," Stossel continued. "And you really shouldn't give to these street people. You are really supporting alcoholism and drug problems."
"So, you're saying you shouldn't' give to street people at all," Kilmeade asked.
"There are all these charities that try to help them and get them off the dole," said Stossel. Stossel said that in the past he had conducted a similar experiment where he offered 17 panhandlers jobs and only one showed up.
Watch the segment below via Fox News Channel:
> >Follow Noah Rothman (@Noah_C_Rothman) on Twitter
Have a tip we should know? tips@mediaite.com