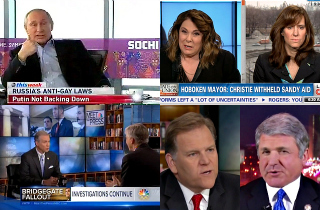 It was Conjecture Sunday on the political shows this Sabbath, as accusations and allegations and smears and intimations were flung at the walls with nary a bit of evidence following. You're forgiven for coming away from these segments thinking Edward Snowden flooded Hoboken.
For sheer ballsitudery, Representatives Mike Rogers (R-This Is How I Spend My Sundays) and Mike McCaul (R-Calm for a Texan Politician) appeared on different shows and cast the same aspersion: that Snowden had been "cultivated by a foreign power" into thievering NSA info. Which power in particular? Eh, they're not saying anything "definite," just that there are questions that need to be answered. What evidence do they have to back up this hunch? They can't really explain, but let's just say there are questions that need to be answered.
If it bothered either of The Mikes that they had conspired to accuse another man of conspiracy—their language was suspiciously similar to have been two men musing independently of each other—they sure didn't show it:
Plus they're both named Mike. Coincidence? Let's just say there are questions that need to be answered.
Meanwhile, there must be a run on Chris Christie conspiracies, cuz people were hawkin' em everywheres. Hoboken Mayor Dawn Zimmer talked to Candy Crowley about the link between Hoboken's Sandy aid funding and a development project and explained that, yes, it was odd that she hadn't brought this up before now; Assemblyman John Wisniewski, head of the Bridgegate investigation, defended his proclamation that he "didn't believe Chris Christie" before finishing the investigation, or, for that matter, really starting it. It's almost enough to make one agree with Rudy Giuliani about the lack of evidence behind all these Christie accusations, until one remembers to exactly a week ago when Giuliani was flinging zanier conspiracy theories of his own about the IRS and Benghazi. #thisguy
And then we come to 2005 Super Bowl champion Vladimir Putin. His first segment on ABC's This Week With George Stephanopoulos was surprisingly troll-free, to the point that it seemed Putin was really trying to make with the global nice-nice ahead of Sochi. Then Stephanopoulos started asking questions about Putin's anti-LGBT laws, and Putin basically said that his LGBT laws were more liberal than Alabama's. America? You been trolled.
P.S.: Mary Matalin needs to take a five.
[Image via screengrab]
——
>> Follow Evan McMurry (@evanmcmurry) on Twitter
Have a tip we should know? tips@mediaite.com