Sydney Leathers To Howard Stern: Anthony Weiner 'Too Busy Jacking Off' To Be Mayor Of New York City
Sydney Leathers To Howard Stern: Weiner 'Too Busy Jacking Off' To Be Mayor Of New York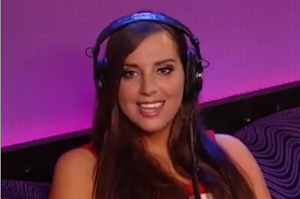 One of Anthony Weiner's most recent sexting partners went on Howard Stern's satellite radio show Tuesday and the discussion unsurprisingly took a raunchier turn than her first TV appearance on Inside Edition. Sydney Leathers told Stern Weiner's "a little too busy jacking off to do anything for the city."
Right off the bat, Leathers agreed with Stern's assessment that Weiner is "one sick puppy" especially "after the first scandal had already happened." She recalled asking herself, "Is he really this dumb?"
She said it "didn't take long at all" for Weiner to start flirting with her when they were chatting online, adding "he doesn't really have a good segueway, he just goes right into it." Asked if she thought she was "in love" with the former congressman, Leathers answered, "Well, he said it first. Maybe I thought I was in love with him, in reality I wasn't."
Leathers confirmed to Stern that Weiner's penis "actually" is large. "He's well-endowed." Pushing even further into the TMI-zone, she said the duration of their phone sex "varied" but "it definitely did not take him long" to finish. At the same time she was "baffled" that "someone so book smart could be so dumb in life."
When Robin Quivers asked Leathers if Weiner actually thought he wasn't "cheating," Leathers said, "I don't think he really gives a shit, to be honest. He thinks, 'I'm Anthony Weiner, I'm Carlos Danger, I'm going to do whatever I want.'" As their relationship began to "fizzle out," Leathers described Weiner as a "needy little bitch" who was desperate to talk to her constantly.
"What pissed me off," Leathers said, "was him on the campaign trail saying, 'Oh, I've changed,' and he has this perfect marriage now." Calling that attitude "bullshit," she once again said she was "proof" that he hasn't changed. On Weiner's political future, Leathers said, "As funny as it would be to have a Mayor Carlos Danger, I think he's a little too busy jacking off to do anything for the city."
Revealing that Leathers has met with someone from adult video service Vivid Video, Stern asked, "Are you considering a porno?"
"I'm keeping all my options open," Leathers responded, not ruling out having sex on camera for money.
Watch video below, via HowardTV:

—
>> Follow Matt Wilstein (@TheMattWilstein) on Twitter
Have a tip we should know? tips@mediaite.com