Rothman: Tamron Hall Interrogates Tech Expert After He Criticized Supposed 'Improvements' to ACA Site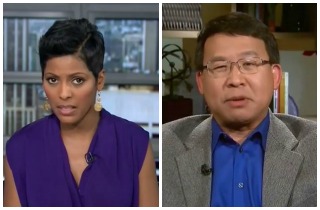 MSNBC anchor Tamron Hall interviewed a panel of guests on Monday about the results of the government's effort to repair the broken Affordable Care Act's online health insurance exchanges. When one tech expert, a regular cable and network news guest since the ACA site became a subject of national debate, criticized the site's supposed fixes, he was interrogated by Hall about his level of experience with the ACA's website.

"What is the reasonable expectation, as it stands now, of what people should expect moving ahead with these slight improvements that we're seeing," Hall asked.
"I'm really hoping as a user and taxpayer that the system works properly. you know, as of today I still haven't been able to log into the system because it's been too busy," software programming business owner Luke Chung. "So, I'm not sure about the changes they've made."
This shocking admission would be damning enough, but Hall interrupted to make the segment even more consequential.
"Was this your first time trying to get on the website?" Hall asked incredulously.
"I've been trying since the weekend," Chung replied, generously interpreting Hall's to question to be, "Was this your first time trying to get on the website [Since the White House's self-imposed November 30th deadline passed]?"
Chung said that he saw the website added some unsubsidized example of policy pricing for users to peruse, but he was never able to log into the system.
Hall followed up: "You don't count that as getting on the website?"
… Let's just let that one sit there.
Hall marveled at the fact that Chung's description of the errors he was encountering was almost more problematic than the website's functionality prior to the so-called "fixes" were completed.
Hall is, or at least should be, familiar with Chung. He has been telling anyone who will listen that the ACA's insurance exchange portal is deeply flawed and there needs to be a management shakeup before users will experience a marked improvement.
Hall was, in fact, among the first to introduce Chung to the nation. On October 17, just one day after the GOP-led government shutdown ended and the media focused on the ACA's implementation to the near exclusion of all other stories, Hall aired an NBC News package featuring Chung issuing strong critiques of the federal insurance exchanges.
"Amateur hour," he said at the time. "It looks like it was created by someone who's never delivered commercial software before."
RELATED: Tech Expert to NBC Reporter on Obamacare Roll-Out: Without Changes, 'This Project is Doomed'
"If they don't change management, this project is doomed," Chung added. "Because we've already seen what the existing management considers ready for shipping. And it's not."
It appears that after nearly two months, a full-blown political crisis, and round-the-clock repairs to the site, Chung has yet to see any dramatic improvements to the system. Had Hall not displayed such an undeserved show of shock after Chung criticized the site's so-called "improvements," then that might have been that story emerging from this segment. What could have been…
[Photo via scree grab ]
— —
> >Follow Noah Rothman (@NoahCRothman) on Twitter
This is an opinion piece. The views expressed in this article are those of just the author.