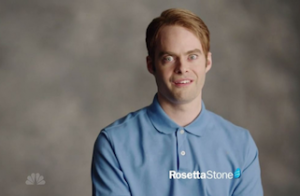 A commercial parody for the Rosetta Stone language software from the January 26th episode of Saturday Night Live didn't get much attention when it aired. But now, the Thailand government is demanding that it be removed from the internet.
The sketch features people innocently learning Russian, Spanish and other languages for practical purposes before turning to an increasingly creepy string of men learning Thai so that they can travel to Thailand and communicate with prostitutes. The viewer sees the men learning helpful phrases such as "How much," "Is that for the whole night?" and "Oh my God, what have I done?"
Now, the New York Post is reporting that Thailand's Culture Minister Sonthaya Khunploem is working with the Ministry of Foreign Affairs to have the clip removed from YouTube, where people in that country can currently view it.
"The government will also inform the US Embassy that the commercial spoof is tarnishing Thailand's image," he said, "and will ask the embassy to explain the situation to the producer of Saturday Night Live."
While his efforts may succeed in getting the various low-quality versions of the sketch removed from YouTube, it isn't likely to be due to the controversial nature of the content. Instead, like all SNL sketches that end up on YouTube, NBCUniversal will no doubt work to remove the videos for copyright infringement.
It would be significantly more difficult to convince the company to remove the sketch from its own website and partner Hulu, where only American viewers can see it.
Watch the offending sketch below, via NBC:
(h/t The Daily Dot)
—
>> Follow Matt Wilstein (@TheMattWilstein) on Twitter
Have a tip we should know? tips@mediaite.com