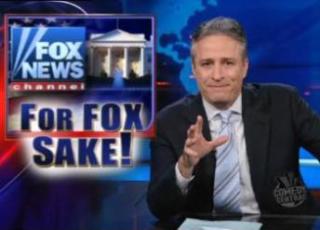 Just as the White House vs. Fox News feud is winding down (actually, not at all), Jon Stewart and The Daily Show are weighing in.
In what was his final show of October, he addressed the ongoing feud that began heating up as the month started – and he hit both sides for different reasons.
His main point about Fox News was that, while there was a defined line between Fox "News" and Fox "Opin-utainment," there were specific instances where the two sides fed off of and into each other. Using the Obama song in the New Jersey classroom as the jumping off point, he laid out the cycle. "Public school officials in Burlington, New Jersey are being accused of indoctrinating their students," said Bret Baier in a clip, followed by Stewart: "Yes, they are being accused – by the guy whose show is on right before you! I'm amazed he didn't bring it up to you, when you had lunch."
But he also picked apart the White House arguments. After playing Valerie Jarrett's comment, "I don't want to just generalize that all Fox is biased or another station is biased," during her recent interview with Campbell Brown, Stewart responded, "You don't want to generalize? You just did! What was that the old you from eight words ago?"
MSNBC is probably not going to love Stewart's description of them as the "Toledo Mud Hens to Fox's Yankees" as well.
Here's the full clip, and stay tuned to the end for the f-bomb-laden kicker about 'truth to power':
—–
» Follow Steve Krakauer on Twitter
Have a tip we should know? tips@mediaite.com