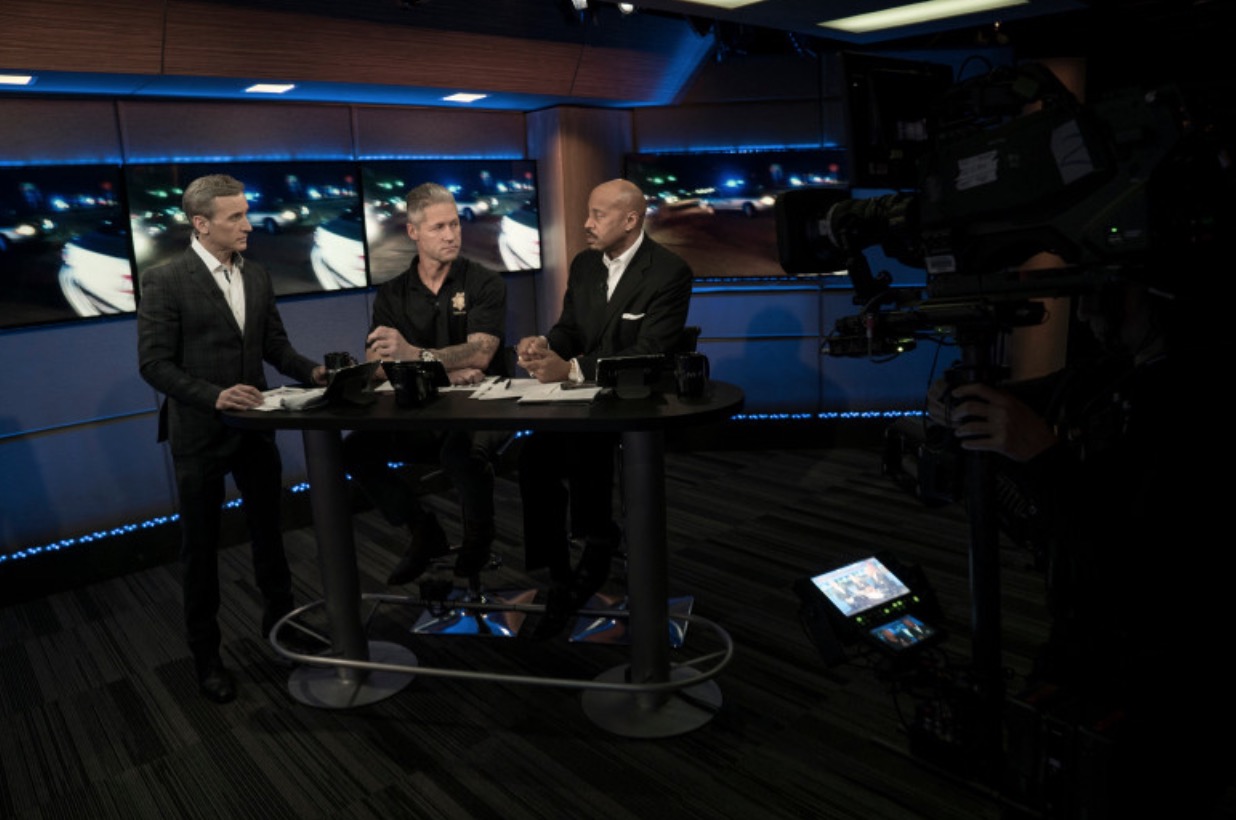 We're well on our way through the second half of 2018 and the cable news ratings wars are still raging on. In this hyperdrive news cycle, there's never a shortage of content that needs to be covered, and even though MSNBC and CNN are still pulling in big numbers, Fox News still rules the roost with 4 of the 5 most watched cable news shows in July.
According to Nielsen, in the 25-54 demographic, Sean Hannity came in first with 623K viewers, followed by Tucker Carlson at 524K and Rachel Maddow with 511K. With President Donald Trump in office, cable news numbers across the board continue to be some of the highest on record. But despite all the talk of cable news, there's another live cable show whose numbers for the year easily surpass every show on cable news by a significant margin and is even beating all three cable news networks prime time shows combined in the coveted 18-49 year old demographic.
That show is Live PD on A&E.
Full disclosure, we at Mediaite might be slightly biased in favor of Live PD since our founder Dan Abrams is the host of the show. And yes we got pitched the story. But whatever you may think about the numbers and where they came from, the fact is they don't lie.
Let's break this down. And please direct all troll remarks and accusations that we're pumping up the boss' ratings to the comments below.
Live PD's Friday and Saturday night audiences are much bigger than every Fox News, MSNBC and CNN program among the core 25-54 demographic used by advertisers. With an audience of 1.022 million so far this year in that key demo from 8 p.m. to 12:00 a.m. (the show airs a live tease at the top of 8 p.m. for about 6 minutes, then plays previously seen scenes and goes live again at 9), the program comes very close to matching the big three's combined demo audience of just over 1.1 million on Friday and Saturday nights and the just over 1.2 million they do combined Monday-Friday. This is especially noteworthy since the median viewership age for Live PD hovers around 51, while it's 65 and up for Maddow, Hannity and most of cable news.
It's amongst those hard to find younger viewers where LivePD has really led the pack. On Fridays, when the show goes head to head with the cable nets, Live PD has 832,000 viewers amongst 18-49 year old viewers while Fox, CNN and MSNBC combined have 741,000 from nine to midnight and 747,000 from eight to midnight (surprisingly MSNBC actually leads that metric in the cable news world by a small margin with 269,000 and 259,000 respectively).
On many Friday and Saturday nights, Live PD isn't just the top rated show on cable, but the top rated show on television in the demo including all broadcast and cable networks.
So there you have it. It is possible to have a successful live cable show that doesn't revolve around either criticizing or supporting President Donald J. Trump.
[Image via screengrab]
— —
>> Follow Ken Meyer (@KenMeyer91) on Twitter
Have a tip we should know? tips@mediaite.com