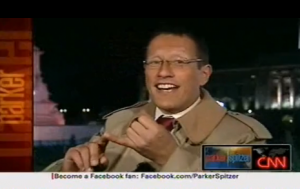 Start the Facebook group now: Get Richard Quest on Parker Spitzer Every Night!
Now I realize the vast majority of Facebook users don't know Kathleen Parker or Eliot Spitzer–at least as cable news hosts–but an offbeat character like Richard Quest could work miracles toward changing all that.

CNN's struggling Parker Spitzer has been great for TV critics, who savaged the two cable news newbies when the show debuted in October. Alessandra Stanley went for the sharpest of knives in her kitchen, writing in The New York Times:
"the ickiness factor of 'Parker Spitzer' may subside, but the first glimpse of CNN's latest offering on Monday was hard to watch. Former Gov. Eliot Spitzer of New York and the conservative syndicated columnist Kathleen Parker playfully, almost flirtatiously, discussed the news of the day–'Crossfire' meets 'Moonlighting.' Last week, Larry King told the duo they had 'chemistry'–if so, it carries a queasy whiff of sulfur."
The show–noteworthy for its offbeat selection of smart guests and Spitzer's tough questioning–has made little progress with viewers. If Tuesday night's show is any indication, a nightly dose of Quest, a news personality with so much personality he makes a guy like Rick Sanchez seem boring. Quest's even managed to take a trip through the New York tabloid mill and come out shining.
Last night, in a segment dubbed "The Chattering Class" (that will obviously have to change…may we suggest something simple like "5 Minutes of Crazy with Richard Quest?"), the policy wonk pulse of Parker Spitzer was thrown into overdrive within the first seconds of Quest's appearance to talk the Royal Engagement:
PARKER: Prince William and Kate met in 2001 in college and they've been pretty much together ever since, so is there anything behind this timing…this isn't an old fashioned shotgun wedding, is it?

QUEST: Good grief, woman, hush your mouth immediately. I don't know what you're suggesting!
Bingo! Double uber bingo! Later, in a discussion of how, in a time of massive British budget cuts, the Royals can justify a lavish wedding. Quest says it'll be a bit scaled back in Royal terms, but of course "you can't scurry off to a registry office and have a civil ceremony and have a couple of curled up sandwiches!"
Watch the clip (Quest can take a word like immediately and morph it in a wonderful, poetic, 17-syllable word) and tell me if you wouldn't watch news candy like this every single night.
Have a tip we should know? tips@mediaite.com