The Other Late-Night Redhead: A Q&A with Chelsea Lately staff writer, comedian Brad Wollack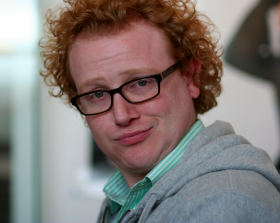 The latest twist in the late-night drama has been revealed: Conan O'Brien is going to TBS, and late night is coming to — gasp! — cable. Well, Chelsea Handler already knew that. Handler is the host of Chelsea Lately on E! and the best-selling author of My Horizontal Life: A Collection of One Night Stands, Are You There, Vodka? It's Me, Chelsea, and her most recent book, Chelsea Chelsea Bang Bang.
Chelsea Lately has been steadily rising in popularity since the show first aired in 2007 thanks to the program's quick-wit, celebrity banter and I-could-give-a-damn-what-your-publicist-thinks-of-me mentality. But the half-Jewish, half-Mormon blonde (dyed) comic doesn't do it alone. Hours before taping, in a generic conference room, fueled merely by caffeine and carbs (and, of course, vodka), are the show's staff writers churning out one-liners as fast as Nadya Suleman does children. Zing!
Mediaite's Dana Schuster spoke to one — Brad Wollack, late night's less-Twittered-about other redhead. Chelsea Lately regulars (about 900,000 viewers per night) know Wollack, the "House Ginger," as a frequent on-screen presence, whether being dressed down by Chelesa in a performance review, looking wildly out of place on the red carpet at the BET awards, or being dissed by a baby. But Wollack has a fallback — he's a recent B-school grad and doesn't need free swag from J. Crew, though he knows how to get it. Below, he holds forth about his favorite gossip rags, who to follow on Twitter and why you should invite your boss to your wedding…plus, how people don't consider Chelsea Lately a late night show because the host is a woman — and why they are wrong.
************
What do you think of drawing the comparison that Chelsea Lately is really just a televised, verbal blog that recaps tabloid culture?
Who drew that comparison?
I did. Just now.
That's an interesting perspective. Yeah, I think in some respects that's true. Maybe we might be…it's like a blog that actually has some credibility, I guess, just because our popularity. And you know, anyone can have a blog, but not anyone can do what Chelsea does and that's not merely being on TV. But all of her opinions and ability to communicate her thoughts and true passions and feelings on the topics is pretty unique, too. I like to think that our blog is a little nicer than any other celebrity blog out there. At least aesthetically, we look a lot better.

How would you define the show? Do you consider Chelsea Lately a late night show?
People don't give us credit for being late night because we do it a little bit differently than most. Our cold opening or our "monologue" is a bit different than the way it's been done in late night. The round table is an extension of the normal late night monologue…you're still getting the normal jokes. I think people hesitate to call Chelsea Lately a late night show because 1) it's on E! and 2) it doesn't feel like a classic late night show. And I think that's what makes us great, and pop. We're delivering it in a fresh way, at least to our generation. Which I think is great. But I also don't think we get credit for being a late night show because we're only a half hour. And lastly, because Chelsea's a woman. And I think some people discount us because of that and that, I think, is entirely wrong.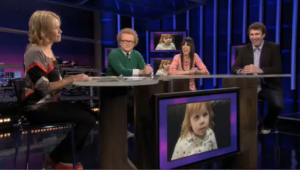 Any chance of the show being extended to a full hour?
If I can recall, there was talk about there being an hour a while back, kind of a, "Let's test it out at first for a half hour and maybe we'll extend it after." Which never happened. And truthfully, after a certain point, what more can we offer you for that hour? If someone says, "What do you want to watch, the first half hour or the second half hour of a late night show, it's always the first half hour. You put all your great stuff up front. All of a sudden, we're going 11:30 to midnight and we're stretching and trying to fill and we've got weaker guests…a half hour is good for us now.

Do you blog or tweet? What is the most inane thing you have ever tweeted?
Yes, I twitter. My most inane tweet? I don't know! I don't remember all my tweets. [laughing] Probably the most inane one was when I was out drinking and I wrote, "I'm out at a bar drinking, if you find me here, I'll buy you a drink." Didn't say what bar I was at or what country I was in.

Did anyone come to the bar for his or her free drink?
No one came.

Who do you most avidly follow on Twitter?
I am very big on only following a few people because I think there's a power to that. When I have, not to brag, over 10,000 followers, I want to be a filter to them to see who I'm following. I follow the other writers here at Chelsea and a few others. I wouldn't even follow my wife if I didn't have to, but that would cause a lot of problems at home. I'm kind of really specific about who I follow.
[check out who Brad follows @bradwollack]

What are the top three things that go into picking whether or not a story or piece of gossip makes it into the show?
a) Whether Chelsea likes it.
b) Whether our legal people will approve it.
c) Whether or not it's funny. Some stuff just isn't funny.
But (a) is the number one. Typically the more bathroom humor it has or potential for that, the more likely it is going to be in. But legal stuff, we have to be very careful about. Obviously, we can no longer cite the National Enquirer as our source.
>>>NEXT: Which Chelsea Lately cast member is a former porn star?
Have a tip we should know? tips@mediaite.com