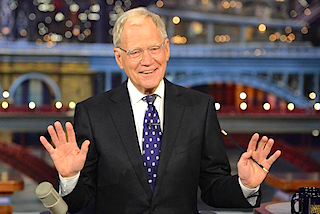 The preliminary numbers are in and things are looking very strong for David Letterman's final night as host of the Late Show. According to Nielsen's overnight metered-markets, Letterman scored a 9.3/24 rating, his highest ratings in nearly 10 years. That was enough to put it above every primetime offering, including CBS' Survivor with 9.41 million viewers and the season finale of ABC's Modern Family with 7.11 million.
The last time he saw ratings anywhere near this high was on December 1, 2005 when Oprah Winfrey finally agreed to come on his show and he brought in a 10.1/24.
After all was said and done, that 2005 episode had 13.5 million total viewers, meaning last night's show will likely fall shy of that (and the 14.6 million Jay Leno saw when he said goodbye last year). When Letterman's show premiered on CBS in 1993, that first episode drew 15.2 million.
The Letterman finale caps a strong two and half week farewell run for the host, which saw his show out-rate NBC's Tonight Show for the first weekly period since Jimmy Fallon took over last February. For the week ending May 8, Letterman topped Fallon 3.816 million to 3.086 million in total viewers. Then, last week, he widened the gap even further, beating NBC 4.139 million to 3.114 million. However, Fallon never lost his lead in the coveted 18-49 demo.
Now, with four months to go until CBS premieres the Late Show with Stephen Colbert, the horse race between Fallon and ABC's Jimmy Kimmel will only heat up. CBS plans to airs reruns of its popular drama series during the 11:35 p.m. time slot over the summer, meaning the Jimmys will be locked in a battle for late night supremacy at least until Stephen Colbert comes in to shake things up.
UPDATE — 2:30 p.m. ET: CBS has provided updated numbers on Letterman's finale and it now appears that 13.7 million total viewers tuned in to last night's show, coming out ahead of his 2005 sit-down with Oprah Winfrey and marking his best ratings since February 1994 when he followed the Winter Olympics in Lillehammer. But he still could not top Leno's 14.6 million viewers on his last night in 2014.
The Late Show, which went 20 minutes long to accommodate all of the farewells Wednesday night, drew 4.1 million viewers in the 25-54 demo and 3.1 million in the 18-49 demo. That was easily enough to outpace Jimmy Fallon, who even over the last couple of weeks had maintained his demo lead.
Watch Letterman's farewell speech below, via CBS:
[Photo via CBS]
— —
>> Follow Matt Wilstein (@TheMattWilstein) on Twitter
Have a tip we should know? tips@mediaite.com