The View's Raven-Symoné: I Discriminate Against 'Ghetto' Names Like 'Watermelondrea'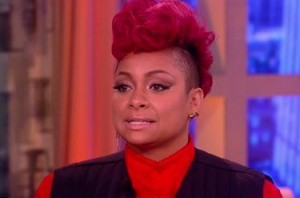 During a segment on a new study finding that people discriminate against others based on their names, The View co-host Raven-Symoné said she wouldn't hire someone with a "ghetto" name.
Raven-Symoné made the comments Thursday after the show played video of a popular YouTube video making fun of inner city African-American names. "Just to bring it back, can we take back 'racist' and say 'discriminatory'?
Because I think that's a better word. And I am very discriminatory against words like the ones that they were saying in those names," she said.
"I'm not about to hire you if your name is Watermelondrea. It's just not going to happen. I'm not going to hire you," she said.
Unsurprisingly, other African-Americans did not take the comments well:
Raven seems to see no irony in supporting discrimination against non-traditional names while having a non traditional name AND appearance.

— Marc Lamont Hill (@marclamonthill) October 9, 2015
New piece: Raven-Symone must've forgot her name is "Raven-Symone" http://t.co/KzC6VfVx2m — Jamilah Lemieux (@JamilahLemieux) October 9, 2015
Raven-Symoné name hits for the hood name cycle. It has two capital letters, a hyphen, alternative spelling choice, and an unnecessary accent

— Black Guy Emeritus (@ReverendDrDash) October 9, 2015
Don't let Raven's simple minded opinion discourage you! If you have the knowledge it won't go unnoticed no matter what your name is! — Jonica Booth (@Blu1x) October 9, 2015
That Raven-Symoné used "Watermelonisha" as an example of a "black name" shows you how deep the internalized racism and self-hatred goes.

— Jamil Smith (@JamilSmith) October 9, 2015
[Image via screengrab]
——
>>Follow Alex Griswold (@HashtagGriswold) on Twitter
Have a tip we should know? tips@mediaite.com