'There Are No Glitches': Ed Schultz Insists Fox Behind Myth of Obamacare Flaws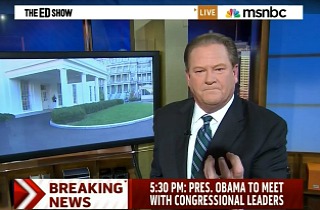 "There are no glitches," MSNBC host Ed Schultz declared. Ever, you ask? No, only in the case of the divinely inspired and flawlessly executed health care exchanges that opened on Tuesday as part of the Affordable Care Act. In fact, the widely reported and well-documented failures that the system experienced on opening day were, according to Schultz, a myth propagated by Fox News Channel.

Schultz began his commentary on Wednesday by imploring that the White House refuse to budge off of their position that they will refuse to seek a negotiated settlement with Republicans in Congress to reopen the federal government.
RELATED: Obamacare Exchanges Frustrate MSNBC Anchor: 'This Is Where My Patience Would Be Exhausted'
"This is about standing strong," Schultz insisted. "This is about not backing down. This is about showing a spine."
"You can just listen to them manufacture glitches," he continued. After a brief digression, Schultz returned to his central point about the exchanges not experiencing" glitches" of any kind.
"There are no glitches," he insisted. "If you opened up a restaurant and you couldn't feed anybody because there were too many people that got in early, and you just couldn't handle the line, do you think the manager of the restaurant is going to go back and chew out the staff because the response was overwhelming? I think they would probably call that a good night at the office."
"But, of course, Fox News and the republicans, they call that a glitch," he concluded.
Schultz and his audience don't have to take it from Fox, or CNN, or Al Jazeera America, or any other news network eager to investigate how the long-awaited and highly anticipated health care exchanges were functioning on their opening day. In fact, they can take it from MSNBC.
"I keep getting this error page," a frustrated MSNBC anchor Mara Schiavocampo said on Tuesday morning in a pre-taped package which aired during the network's dayside news and information segments. "It won't let me progress past identifying — it won't let me progress past verifying personal information, so I'm going to call the help number and see what they have to say."
"If I were signing up for myself, this is where my patience would be exhausted," she confessed after 30 minutes on hold with a help line. At that point, Schiavocampo simply gave up.
Perhaps Schultz also missed a New York Times report published on Wednesday which detailed the problems the system was experiencing on day two.
"[R]eports by government officials, consumers and private groups designated as "navigators" to help consumers use the system all indicated that relatively few people were able to establish accounts, and fewer still were able to go beyond that step to shop and compare plans," the report read. "Even fewer were able to apply for coverage."
Maybe these are opening week failures. Perhaps, the system was simply overwhelmed with the avalanche of interested citizens eager to examine how the exchanges were operating. But to say that "there are no glitches" is laughably inaccurate.
[Photo via screen grab ]
— —
> >Follow Noah Rothman (@NoahCRothman) on Twitter
Have a tip we should know? tips@mediaite.com