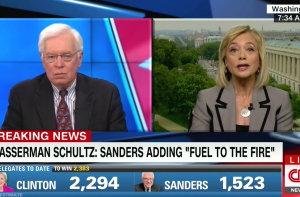 Democratic pundits Bill Press and Hilary Rosen butted heads on CNN's New Day Wednesday over Bernie Sanders' fight with the Democratic Party, with the rhetoric getting somewhat personal at times.
"I personally think [DNC Chair] Debbie Wassermann Schultz should learn some lessons from [RNC Chair] Reince Priebus about being an impartial chair that brings people together and soothe things down rather than stirs it up," Press began.
"You've got to be kidding," Rosen could be heard saying as Press spoke, leading host Chris Cuomo to interrupt and let her get a take in.
"That's the most ridiculous thing I've ever heard," she responded. "Just last night Debbie was on TV, our DNC chair, asking if Bernie should get out, 'No, absolutely.'"
"The DNC has been scrupulously objective and stayed out of this for a long time," she continued. "The trashing of the DNC leadership is absolutely ridiculous and unacceptable. Just because Bernie Sanders is losing, all he's doing is whining about the process. And, Bill, this is beneath you. Come on!"
"I would go back to Martin O'Malley, way back into Minneapolis. I went to the DNC meeting in Minneapolis, it was a set piece for Hillary Clinton," Press responded.
"That's crazy," Rosen shot back. "Bernie Sanders and Martin O'Malley agreed to that debate schedule. That's just nuts."
Their argument died down as Press changed topics, but flared up again minutes later when Rosen brought the heat: "Bernie Sanders is losing this race. And instead of taking it like a man, he's working the ref, he's encouraging his people to think that the system is rigged, the system he signed up for as an independent to run in a Democratic primary."
"As a former party official, I have to tell you the system is rigged against an outsider," Press said. "The party is rigged, it's against any outsider. It happened to Trump, it's happening to Bernie."
Rosen said that if Sanders was so angry about the process, he could always run as an independent. "Now Hilary's saying he should run as a third-party!" Press laughed. "I didn't think you wanted a third party. Come on!"
Watch above, via CNN.
[Image via screengrab]
——
>>Follow Alex Griswold (@HashtagGriswold) on Twitter
Have a tip we should know? tips@mediaite.com