'This Kid Could've Been Shooting All 14 People': Student Who Tackled Stabber Opposes 'Concealed Carry' On Fox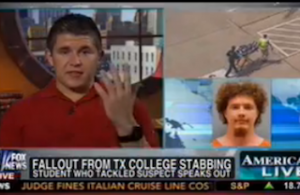 As Mediaite's Noah Rothman predicted yesterday, it didn't take long for the horrific mass stabbing incident yesterday at Lone Star Community College campus in Cypress, Texas to find its way into the gun control debate. Today on Fox News, Megyn Kelly interviewed one of the students who tackled the assailant and subdued him so police could bring him into custody. Towards the end of the interview, Stephen Maida explained why he doesn't think guns would have improved the situation on campus.
After Kelly praised him for his "courage" and "bravery," Maida described how he pursued the stabber across the campus in an effort to protect more people from getting hurt. When Kelly asked him if he was armed in any way, Maida raised a hand to the camera and answered, "just my fists, that's it." He described the dramatic moment when he and three other students took down the stabber as follows:
"One guy grabbed the back of the backpack, and spun him around another kid grabber his arm and then we pushed him to the ground. The guy gave up immediately and knew there was four of us around, but he was unarmed and had the knife in his pocket."
At that point, Kelly turned to her other guest, Republican Texas State Senator Dan Patrick, who has been an outspoken supporter of "concealed carry" laws college campuses, which would allow students to be armed at all times. "Folks who want more gun control and don't want concealed carry," Kelly said, "they believe this helps their argument, because so far, thankfully, no one has died. The 14 students who were stabbed we injured, but have not passed away."
Patrick called that suggestion "not only a weak argument, but an argument that concerns me," because to him it implies that students have to be shot and killed before the measure is moved forward. Of course, college students have been shot and killed on campus numerous times, most notably in 2007 on the Virginia Tech campus.
After making his general case for "concealed carry," Patrick turned his argument specifically to what happened yesterday in Texas. Heaping praise of Maida, who he called a "hero," Patrick asked what would have happened had the assailant been carrying a gun instead of a knife. "Stephen would have been helpless. He may have tried to tackle him with a gun, but he may have been shot." By creating this hypothetical, Patrick glossed over the two major facts about this story that make it unique precisely because there were no guns involved: no one died and students were able to take down the assailant.
And if Patrick thought he would have an ally in Maida on this issue, he was mistaken. When Kelly asked the student to weigh in, he offered his strong reservations against allowing his classmates to be armed. He admitted that "there are some kids that are mature enough for it." But he cautioned, "if you look at the kids at the school and more of the people that are around here, seeing them with a gun would worry me more, and to know how easy they get provoked and how crazy they can be. This kid, instead of stabbing people, he could have been shooting all 14 people, and all 14 people could have been dead."
Once he saw that Maida was disagreeing with his fundamental premise, Patrick changed his tone in reference to the young man. "That misses the point," Patrick said. "Anyone like the person with the knife yesterday today could bring a gun illegally on campus." He stressed that in his law, concealed handgun licenses would only apply to students and faculty over 21, so he took umbrage at Maida's use of the term "kids."
It's evident that State Senator Patrick truly believes that his concealed carry law would help students like Stephen Maida protect themselves when faced with a crazed gunman on their campus. But he was clearly taken aback when Maida opposed his reasoning and made a point that many gun control advocates have been making for decades: when there are more guns in a given circumstance, there is a heightened potential for those guns to be used to hurt and kill innocent people. As the courageous young student demonstrated with his actions yesterday and his words today, more guns are not the answer to keeping college campuses safe.
Watch video below, via Fox News:
—
>> Follow Matt Wilstein (@TheMattWilstein) on Twitter
Have a tip we should know? tips@mediaite.com