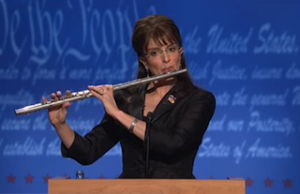 Tina Fey's new memoir Bossypants is out this week and, despite a truly terrifying cover image, is clearly going to be a huge hit. After all, Fey has arguably been the First Lady of Comedy for the past decade (by the way, "First Lady of Comedy" is the exact kind of vaguely sexist comment that would lead to her choosing that terrifying cover image). The book has been getting a number of rave reviews including one from USA Today that includes an excerpt detailing one of Fey's most famous creations; her hilarious and scathing impression of Sarah Palin. While the impression is something Fey will be known for for years to come, in the book she admits it may have hurt that other thing she's known for, her show 30 Rock.
From USA Today:
"Did Palin help or hurt Ms. Bossypants' career?

'Some may argue that exploiting Governor Palin and her family helped bring attention to my low-rated TV show,' Fey writes of 30 Rock, the Emmy-winning NBC sitcom now in its fifth season.

'I am proud to say you are wrong,' she writes. 'My TV show still enjoys very low ratings. In fact, I think the Palin stuff may have hurt the TV show. Let's face it, between Alec Baldwin and me there is a certain fifty percent of the population who think we are pinko Commie monsters.'"
Do people really dislike Fey because of that impression? Well, I guess only, I don't know, the comments to this post will tell. However, even if Fey believes 30 Rock lost viewers because of it, I doubt she's really that broken up. The show and Fey have won countless awards and it's in no danger of being canceled any time soon. I haven't read the book yet (looking for something to cover up the cover with), but I'd guess that, given the chance, she wouldn't trade her Russia-seeing, you-betcha time for any ratings in the world.
(h/t Fox News)
Have a tip we should know? tips@mediaite.com