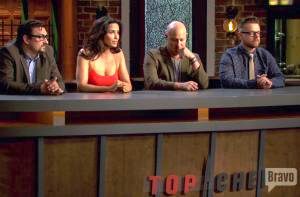 Welcome back, people. This week, the rookies and veterans finally mix up teams, and also, it's the mise-en-place race. Chris Cosentino is the guest judge, which is deeply unsettling for John, because that's who sent him home last time he was on the show. For this mise-en-place, the chefs will have to peel and mince five ounces of garlic, peel and finely dice two quarts of onions, properly turn three artichokes, peel and de-vein 30 shrimp, and shuck 15 clams without splitting the bellies. Katsuji says "the clams are my friends." In a flashback, we watch him violently bang a bang of clams on a countertop and see that the clams are, in fact, not his friends.
There will be an MVP from the winning team who will get immunity. The teams get two minutes to decide who is doing what, and who will actually cook something once the mise-en-place tasks have been completed. The chefs have 25 minutes to do everything, and the chefs can't start cooking until the entirety of the mise-en-place is mised. Or placed. Also, there's a catch, because there is always a catch. The winning team will get to press the opposing team's giant pause button. Once that happens, the "paused" team will have to wait three minutes to do anything, and they don't get the time back.
Katsuji is a master at chopping onions, and finishes first. Unfortunately, his quarts aren't full so he has to keep going. He still finishes first. Sheldon loves mise-en-place challenges, and finishes his onions second. Emily and Sheldon then finish the garlic. Everyone is having trouble with their clams. The green team finishes first and John runs over to the blue team's station and presses the pause button approximately 700 times. The blue team lost three minutes.
The green team is making stuffed clams, which Casey LOVES. The blue team had a plan, but they only have 12 minutes to cook, so they're going to fry up the seafood. Brooke and Shirley are working together like champions, because of course they are. Sam and Amanda are having a bit of trouble.
Sam and Amanda's dish is up first. They're serving stuffed clams  with shrimp, fresh herbs, sambal chili, clam juice, fried artichoke, and bread crumbs. The clams remind Chris Consentino of his childhood. Brooke and Shirley present fried clam bellies and shrimp with a salad of shaved artichoke. The blue team ends up winning the challenge. The MVP is Sheldon, and he gets immunity.
The teams will be the same for the elimination challenge, which will be a progressive seven-course meal, going head to head. The food will be served to a room full of top chef superfans. Each course will, of course, have two dishes, and whoever's dish is better earns a point for their team. The team with the most points at the end wins. If you are on the losing team and you lost your battle, you're up for elimination. Each course must feature Consentino's favorite ingredient- radish. That includes dessert, which Brooke decides she wants to do. Sylvia is also going to do dessert.
At Whole Foods, Amanda is talking to fish. She's nervous because she's going head to head with Shirley, which is fair. Sam is making banh mi, but he's using brioche. Emily is making cured salmon with black radish and a black radish aioli for the first course. Jim is making oysters. Sylva is making halibut with daikon, which he thinks may be "too cheffy." I hope it isn't because I've mixed business with pleasure, something you should not do, and Sylva is on my Top Chef fantasy team. BJ, also on my fantasy team is making a conserva of radish and local trout. I don't know what a conserva is, but I'm hoping it's good. There is a lot of radish going on in this kitchen. Radish ramen, radish sriracha, radish masquerading as a scallop- I am also hoping the superfans like radishes. John says, "everybody is here to win Top Chef, or pack your knives and go home," showing he knows how the show works.
Time to taste! First up: Emily vs. Sam. Emily's cured salmon beats Sam's banh mi, and the point goes to team blue. Next is Katsuji vs. Jim. Jim made oysters, and Katsuji made an enchilada with crab salad. Both are good, but Katsuji wins for the green team. Tie score. Next up is BJ's conserva with trout vs. Jamie's braised breakfast radishes. Jamie narrowly wins it for the blue team. A very confident Casey is next, and serves her radish-that-looks-like-a-scallop against Sylva's halibut. Sylva wins for the blue team, and now the green team needs to win every single battle in order to have a shot at winning the challenge.
Amanda's black cod wins against Shirley's beef-braised daikon in another extremely close race, and the green team is back in the game. Padma says that Amanda's dish is the best thing she's ever made on the show. Next is John's radish ramen vs. Sheldon's adobo radish with radish porridge and micro greens, which John calls insulting. The ramen wins. Another point for the green team. The scores are tied.
Now the grand finale tiebreaker: Brooke's dessert vs. Sylvia's dessert. Brooke makes a purple daikon panna cotta with sour pineapple curd, white chocolate pop rocks and fresh radishes tossed in a simple syrup. Sylvia makes a daikon radish cake with tarragon-marinated blackberries and yogurt vanilla cream. Both are awesome, but Brooke's wins.
The blue team wins the elimination challenge, meaning one of the members of the green team who lost his or her battle will be eliminated.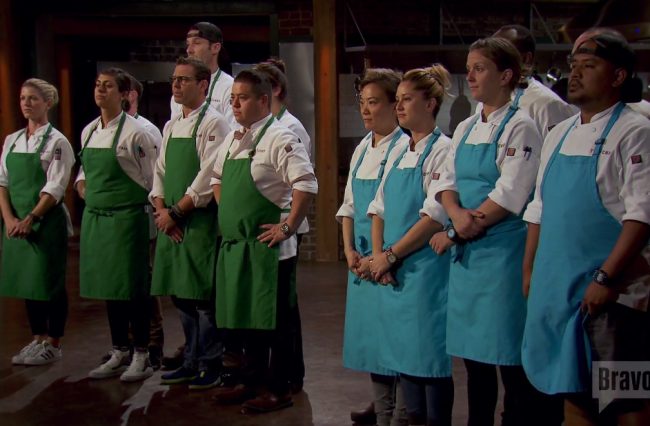 At the elimination, Padma declares this the best meal she's ever had on Top Chef. Brooke wins the elimination challenge. The judges have trouble deciding who has to go home because everyone's dish was great. Ultimately though, someone has to. If you're confused, John explained it (quote a few paragraphs up).
Eliminated: Sam. Never, ever buy store-bought ingredients on Top Chef. The brioche was a bad choice.
This is unfortunate. Oh well. See you next week!
[image via screen grab]
Have a tip we should know? tips@mediaite.com