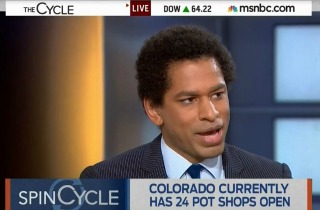 On Friday, the hosts of MSNBC's The Cycle all tore into New York Times columnist David Brooks column castigating habitual marijuana smokers. While many of the hosts attacked Brooks' column for appealing to fallacious logic, Touré confessed proudly that he was able to dissect the incorrectness of Brooks' arguments from "personal experience."

MSNBC host Ari Melber began by dismissing the notion expressed by Brooks that arts and entertainment are more fully enjoyed by those who abstain from using marijuana. "If nothing else, using pot could help you enjoy the arts," Melber insisted.
"These laws change and the culture shifts with it," he continued. "And you get away from a really inaccurate prism – I think it's the David Brooks prism – which is, you're either a drug addict with all these problems, and you can't enjoy nature, and you can't enjoy the arts, and you can't be a responsible member of society, right? That's one extreme. Or, you don't do anything ever."
RELATED: Why Ex- 'Stoner' David Brooks Is All Wrong About Weed
"You can integrate a small amount of marijuana into your life without wrecking your mind, or losing your life, or losing your marriage," Touré insisted.
"How do you know?" Krystal Ball asked pointedly.
"I do know that from personal experience, and I'm not afraid or embarrassed to admit that," Touré countered. "Brooks has this argument, you smoke weed it makes you dumber, right? I read his article – I feel that made me a little dumber, too."
He said that there are plenty of successful people who use marijuana in the same way that a responsible member of society enjoys wine – recreationally and infrequently.
Watch the clip below via MSNBC:
[Photo via screen grab ]
— —
> >Follow Noah Rothman (@NoahCRothman) on Twitter
Have a tip we should know? tips@mediaite.com