Donald Trump: As Third Party Candidate 'I Would Do Great With African American' Voters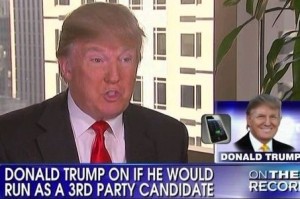 Donald Trump, everyone's favorite reality television star except for the young woman who defecated on Flavor Flav's floor during Flavor of Love, called in to On The Record to let host Greta Van Susteren know that he's the best, basically.
Trump told Van Susteren that he believes a third party candidate could beat out a Republican candidate and make Barack Obama a one-term president. In fact, he doesn't think a GOP candidate could win at all, probably because no debate moderator is able to help get them high enough ratings.
But who? Who would be the right third party candidate to give America hope once again?
Gosh, I don't know. Maybe Trump?
Certainly a third party, the right third party candidate could come in, in my opinion, and win. I do think, if it's somebody like me or the people that they even mentioned, I think it would mean the Republicans can't win, but the third party candidate can.
"Somebody like me"? Could you expand on that, Mr. Trump? Who, um. Who would vote for you?
RELATED: Donald Trump: 'I've Always Had a Great Relationship With The Blacks'
Well, I think I'd get a great cross-section. I think I'd get Hispanic votes, frankly. I think — and people smile when I say it — I think I'd do great with the African American votes. I think I'd do great with that.
Yup. That's what this is. A smile.
Have a listen, via Fox News:
Have a tip we should know? tips@mediaite.com