Washington State 'Pot Czar' On CNN Clearly Unamused By Erin Burnett's Questions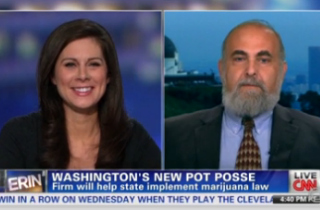 The man chosen to help Washington state implement its marijuana legalization policy appeared on CNN's OutFront last night, and he was not amused by host Erin Burnett's line of questioning, dismissing her characterization of pot activists and, at one point, outright telling her: "That's probably the wrong way to ask the question."
After an introduction that included plenty of goofy stoner references, Burnett asked UCLA professor and newly-designated Washington "pot czar" Mark Kleiman: "What do you know about pot?"
Her question, asked with a slight smirk, suggested that she wanted to know whether Kleiman chooms a doobie or two on occasion. After he gave a rather serious answer on his scholarly background, Burnett pushed: "Sounds like you know a lot, and I imagine you've tested it out a bit. Just to be clear here: you do?"
Kleiman dismissed the question, explaining that drug policy analysts typically have two ways to deal with that sort of inquiry: "Yes, I'm a lawbreaker, come and deal with me" or "No, I don't know anything about the stuff I'm talking about."
"Since neither of those things are an advantageous thing to say, I just make it a policy to not respond," he said.
"Well, you could always go with the 'I didn't inhale' option," Burnett laughed.
But Kleiman harshed the CNN host's giggly buzz by not laughing back, and then taking a serious tone: "No, because I think whether the people on our team have used cannabis at one point or another … is irrelevant to the job we've been chosen to do."
Burnett then brought up how the state of Washington seeks to use marijuana legalization to boost revenue. In order to meet the goals, she said, the state would have to grow a lot of pot to sell to people who want to smoke more. "How much?" she asked.
"That's probably the wrong way to ask the question," Kleiman said before explaining that "We're not going to figure out how much revenue the state can make. We're going to figure out how much marijuana is being used now, how much more might be used if it were legal, and therefore, how much they could grow and sell within the state without the problem of people exporting outside the state."
"This is not a revenue maximization estimate," he concluded.
Kleiman later wrote on his blog that he believes he "managed to convert what was supposed to be ha-ha-meet-the-pot-czar segment into a little bit of a teaching opportunity."
He also explained his unwillingness to answer Burnett's question about his own drug use:
The question about my own use or non-use of pot always comes up, and I always answer the same way, with a polite (I hope) "None of your business." I don't think there's any ill will involved in asking the question: journalists simply want to "place" their sources culturally on the hippie-to-jock spectrum. But I want to resist the whole idea that drug policy should be a clash of cultural identities rather than a serious discussion of harms and benefits.
Watch the interview below, via CNN:
[h/t Tom Angell,
Marijuana Majority
]
— —
>> Follow Andrew Kirell (@AndrewKirell) on Twitter
Have a tip we should know? tips@mediaite.com